SPX monthly outlook, February 2010
-

Crafting the rhythms
Year of Tiger - February 14, 2010 - February 2, 2011.
The first day of the lunar New Year 2010 falls on the 14th day of February, which is Saint Valentine's Day, a day of romance.
Spring Festival Overture
- Performed by "Symphonieorchester their Wiener Volksoper" at Vienna Golden Hall in early 2003.
Full Moon for February, 28, 16:38
Photo:
immerse in the mist
(credit:
hankvision
)
February outlook in essence
Index enters the crosscurrent zone but it is still not far from the January Top. Taking positions endures some risks. That's just the way it is. Resistance 1084, 1103-1110. Index surmounts 1132 will invalidate the downward correction, pivot 1119. Supports 1062/1064, 1043/1036, 1001.
The SPX is moving below the 50SMA (1114 as of 01/29) but far from 200SMA (1014 as of 01/29), therefore, 1K evel is a strong support.
Classical charts
constructs the full stochastic chart with two sets of parameters [21,8,13], [42,16,26].
--------------------------------------------------------------------------------
archive Nov 28 2009, 11:51 PM
The chart gives an impression that the current rally has some more leg to go,
chart:
http://traders-talk....-1259478634.jpg
--------------------------------------------------------------------------------
Here is the update chart (weekly)
The stochastic chart indicates some early weakness but the lower set has no cross yet.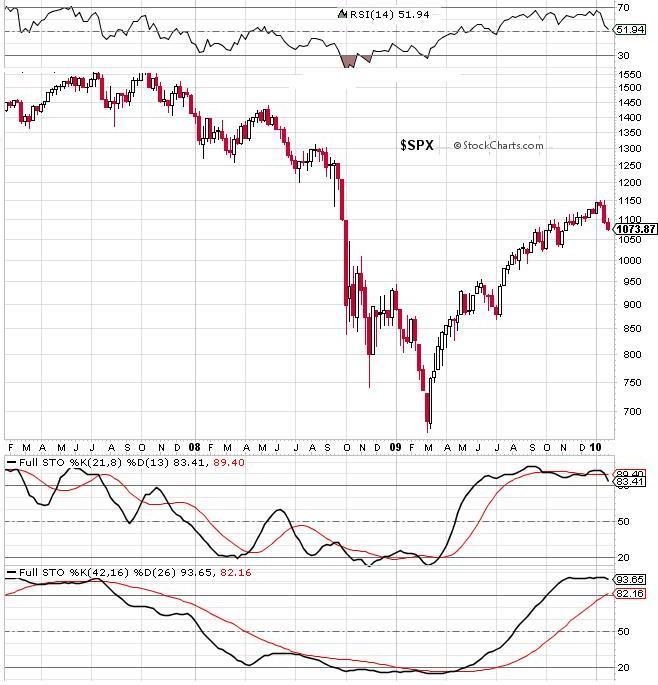 Fibonacci retracements & Wave projections

Market moved ahead of itself due to the economies has moved from dire to a relative mix of positive/negative signals. But, unless fundamental conditions turn down again quickly, we may see index run into some sort of correction, not a full speed downward movement; Set aside the debate of bull/bear, this correction is a good swing trade opportunity. To draw the conclusion that the counter trend wave is complete, index needs to dive below 1000 decisively, or a more conservative number, 960.
Crafting the rhythms
The 105/109 trading day cycle
I have mentioned the 105/109 trading days cycle couple times. The mathmeatical linkage is 100 * PI / 3 = 105; The observed length has an averaged length in 107 trading days, in two incidents, in the length of 2 * 106/109.
Examples: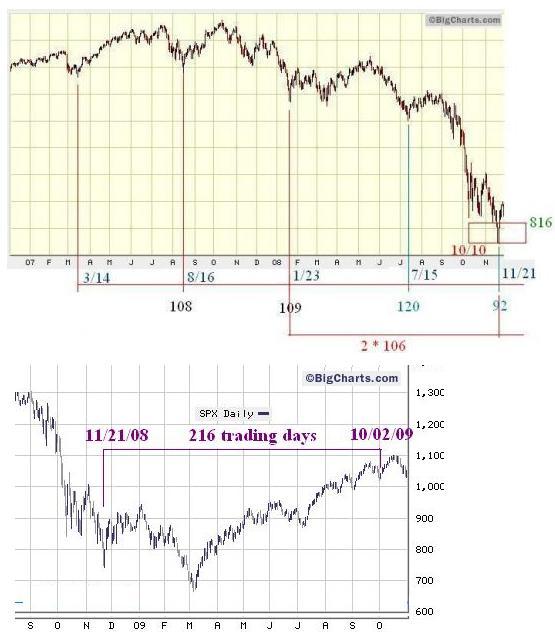 original charts
Dec 6 2008, 05:02 PM
and
Nov 3 2009, 07:59 AM
King Wen sequence
(hexagrams divination) [1], King Wen of Zhou , named Ji Chang 1099–1050 BC was the founder of the Zhou Dynasty China.
The King Wen sequence has been studied by many historians and applied in Numerology. I found a nice paper written by J.M. Berger , title "The 108 in King Wen's Sequence" [3]. In his paper, he suggested a King Wen circular arrangement of the
ba gua
(eight trigrams). The King Wen
ba gua
contains a "magic square" number scheme. The numbers correlates the 105/109 trading day cycle.
Here is the pictorial explanation: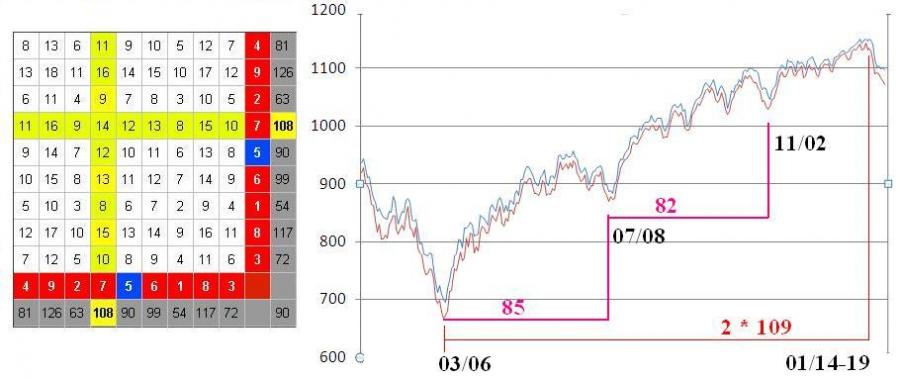 There are 218 (trading) days between 03/06/09 and 01/14-19/10 (double peaks, 1150.45 on 01/19, 1150.41 on 01/14), thus 2 * 109. The Low to Low deployed 85 (trading) days and 82 (trading) days. There are a few other numbers embeds in the chart. I did not collect enough sample sizes to say that there is a strong historical statistical correlation. Here is the interesting question: Could index mark the "next" low 81 (trading) days counting from 11/02? why not 63? 72? If it is 63, then index is in the window; picks 72, it is due on 02/17. If 81 recurs, it is due on 03/01, the Bradley turn date!
[1] The King Wen sequence (文王卦序, King Wen hexagrams divination sequence)
http://en.wikipedia....ng_Wen_sequence
[2] King Wen: Change And Symmetry
http://iching.egople...w-symmetry.html
[3] The 108 in King Wen's Sequence By J.M. Berger
http://iching.egople.../hidden108.html
Probing Q1/10
The key zone to watch is 1010-1001 and 951-965.
Long PI dates
details
04/13/10
09/17/10
Bradley turn dates
graph
03/01/10
08/10/10
Saturn-Uranus opposition-
http://www.astrology...turnuranus.html
04/26/10
07/23/10
Partial list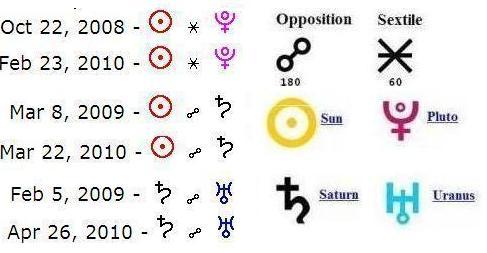 Footnote:
[
Claude Monet
]
"A
color
that I had found and sketched on one of these canvases yesterday
reappears
in the air. I am quickly given this painting and strive to fix this vision as permanently as possible. But it usually
vanishes
as fast as it sprang up, making way for another color I had already painted days ago on another study instantly put in front of me... And that is the way it is all day long." "The motif's essential is the of water whose aspect is constantly being modified by the changing sky reflected in it, and which imbues it with life and movement."