Chart provided below for emphasis.
What do you think of these favorite indicators of yours?
They are some of my favorites, but there are others. With that said:
NYSI has declined 4 days in a row.
The McClellan Summation Index only measures the
distance
between a short term (19 day) and intermediate term (39 day) exponential moving average of the advance/decline line. Being that we have seen money flow move in at an accelerated rate over the last 6 weeks, it would be a reasonable expectation that we see some sort of pause in this same dynamic. The key here is the distance between each individual post that is generated by the McClellan Oscillator. If you notice the current 4 day pause, the lack of distance between each post instructs us that the bears have very little control of the action...that the bulls are in the power position. The only way this can happen is if the A/D line itself is continuing to move in the direction of least resistance. And as noted on this weeks cumulative combo chart seen below, we have 3 areas of support still below us that the bears still need to break through before any idea of a declining price pattern, no less a trending one, can even be anticipated.
NYMO has made lower high and lower low since Sep. 13.
Actually, the NYMO had been within the confines of an indecision pattern since the initial July thrust. Given that the McClellan Oscillator measures the
speed
between the short term (19 day) and intermediate term (39 day) exponential moving average of the advance/decline line, it would then be reasonable to expect that there would be less and less fuel available to drive prices in one direction or the other after the initial thrust. The main technical consideration right now is whether the bears can actually push the directional speed of the A/D line in the opposite direction - OR - will they once again run out of time to do so. Friday's close was close to unchanged which would suggest that there is currently equal balance between buyers and sellers on a near term trending basis (and why the price pattern moved net sideways on Friday), and that one side is about to take control of the action on a short term basis.
NYSE New Highs-New Lows sideways since beginning of Sep. while price advances.
Keeping in mind that the new highs/new lows data is the last to confirm a trending price move, the cumulative NYHL remains in a rising bullish configuration at this time and is within 5% of its all time highs.
Also, take a look at the ROC (Rate of Change)
I don't believe that using a measurement differential of price momentum is an appropriate application to be used with regard to a percentage measurement of a stock's time given simple moving average. With that said, however, one should respect the zero line as their demarcation between bullish and bearish behavior (which, at this time, we are at absolute neutral).
So an assertion that you have categorical (with the use of word impossible) technical evidence against a crash, based on the liquidity conditions, is inconsistent.
It's not based solely on liquidity conditions, but it's a big part of it. You know...this is only my third time that I have EVER made this statement of a crash like event being "Impossible...can't be done" and the last two times turned out to be fully correct in the face of overwhelming bearish fundamental conditions.
By the way, can you name me any technician out there that did predict the May accident? One would do.
But to be fair, and not knowing exactly what one would consider a crash in today's market environment, I will make you a deal:
If the market closes lower by more than 2% on Monday, I will never, ever make a post on this board again (I can hear the cheers now!).
My fearless forecast...with the bulls still in solid control of the action, the odds suggest that we will close up on Monday.
So there you have it...two Fearless Forecasts (in which I never do) in less than a week (XLF the other). So sharpen your axes...I won't run away....you'll always be able to find me to call me on it, in fact, I will be the first one to start the "hangman's post" so that the spotlight will be applied appropriately.
Fib
PS...Melon...I took your question as being a genuine one without your even mentioning it. I was just being cheeky in my reply.

Watch your stops...I hope it works out for you.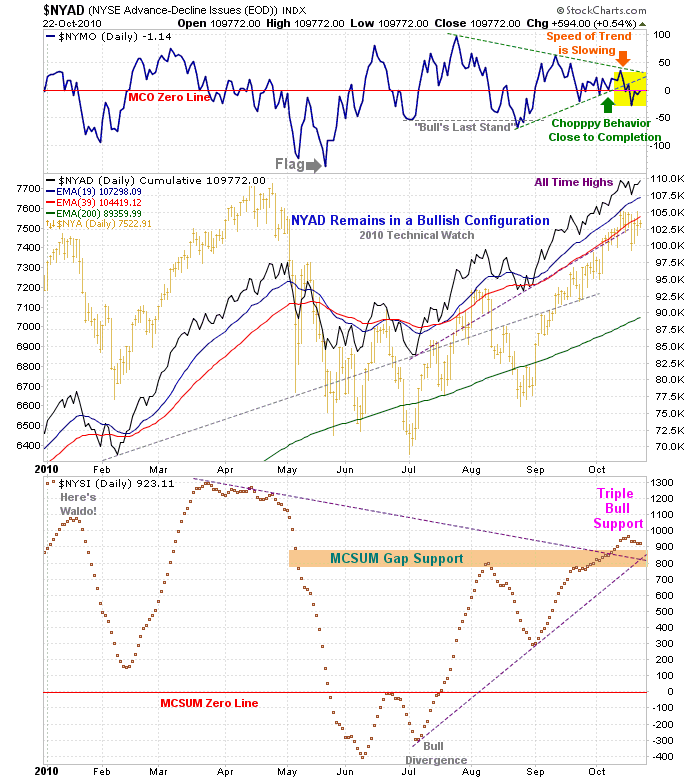 Edited by fib_1618, 23 October 2010 - 12:58 PM.