Posted by Guru Dudette, Jan 23 2007, 11:56 AM
So we all know what that means... more features and MORE BUGS!! Woot!!

Seriously, we should have some upgrades for the TT Board soon, with new features. There should be relatively few bugs to deal with, but there's always the occassional straggler. Please let me know if you experience any problems after the upgrade (which should be within a couple of weeks, I'm just letting you know in advance so there worn't be any surprises.)

Also, we will be upgrading the Blogs and the Chat. The chat has been buggy as hell and I've just been avoiding it. Time to get cracking, I say.



But, saving the best for last, I'm working on an image/chart Gallery Feature that will allow TT Members to upload charts, images, pictures, et cetera and organize them in 'galleries" or folders.

It will (eventually) look a little like this (access will be from your Control Panel):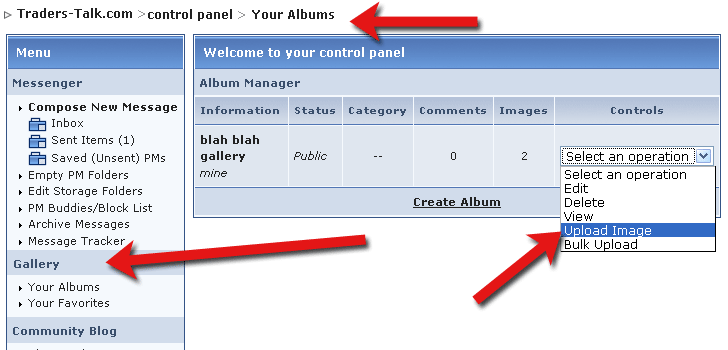 You will also be able to do slideshows of the images.

It's a work in progress.
It always is.



And after that... The ARCADE COMES BACK!!!! YEEEEY!






Comments
There are no comments on this entry