A 5% UP day with 10-1 UP volume on Wednesday, after an almost 20% decline from the historic top of this ageing bull market, signaled at least a ST bottom. 
From a TA aspect, that should be the ST & IT bottom but this market has also been affected and influenced by political issues so nothing can be taken fro granted; however, today's massive intra day reversal, 800 plus DOW points, is another indication the market has made a ST bottom and will probably reach SPX 2580 by the end of 2018.
My probable path is up for at least a few days, sharp pullbacks & rallies, and then down again in January. 
A new 24-month low is quite possible in early January.
Tom McClellan: Finally a 10-1 Up Volume Day
Tom McClellan
 |  December 27, 2018 at 04:57 PM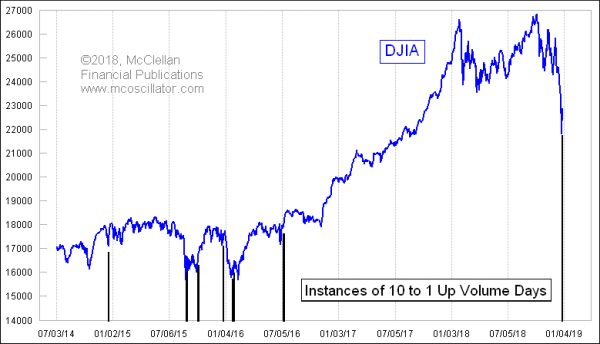 The big bounce day on Dec. 26, 2018 saw NYSE Up Volume of more than 10x the amount of Down Volume, distinguishing it as a "10-1 Up Volume Day." These are pretty special days, because they do not come along very often. They are also special because the interpretation of what one of them means depends on the context in which it appears.
https://stockcharts....volume-day.html