Well, no, but you might be convinced after many bears gave up and converted to bulls after the FED's rather wimpish capitulation, or so it seems. 
Of course, you don't keep on trading short when the market is moving up but you may want stay alert when sentiment goes bullish extreme and then try to catch the markets on the way down. 
One of my posts in the Fall of 218 warned about the impending BEAR market and I am going to make a similar call, soon. 
Conditions are not yet perfectly right but the fizzling & frothing have begin and there aren't many sources of "good news" or catalysts left. 
For now, monitor the SPX 2010/15 resistance zone and the 200ma at 2742
Max upside for this rally is SPX 2760
Fed Kills The Bear... For Now
Summary
2018 was a year where the markets had begun to adjust for tighter monetary policy.
As our headline this week denotes - the shift in policy has temporarily put the bulls back into hibernation.
But, with the Fed now back to providing plenty of "accommodation" to the markets, even if it is only verbal at the moment, there is a bias to the upside for the markets currently.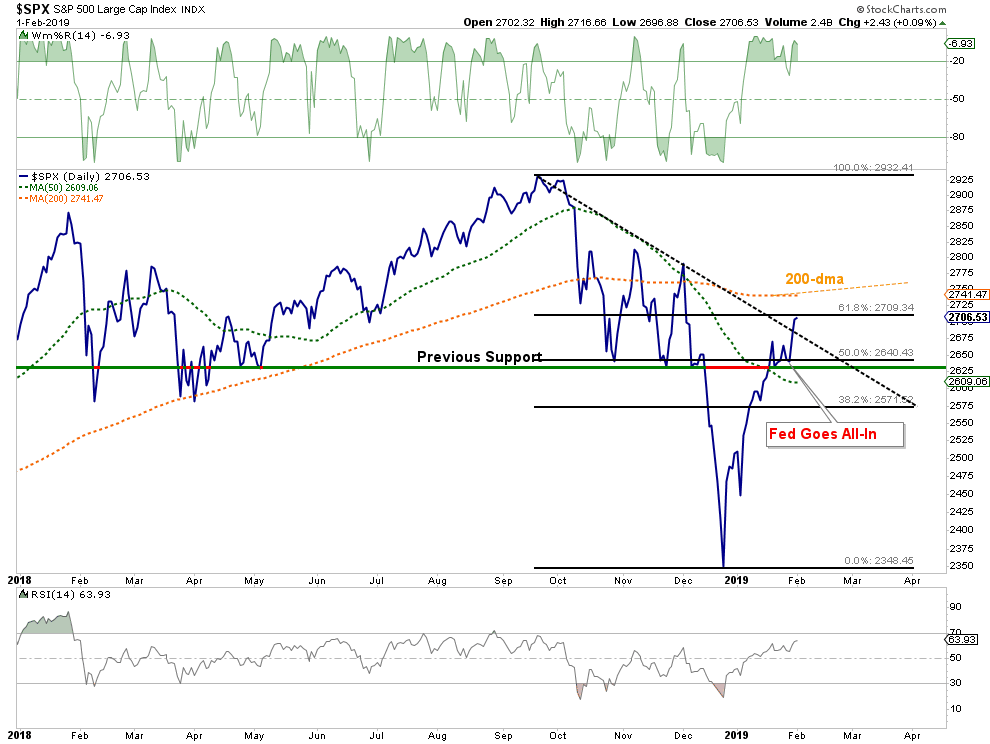 Valuations are no longer cheap by historical standards, but instead are expensive by virtually every measure.
As Goldman Sachs pointed out recently, the market is pushing the 89% percentile or higher in 6 out of 7 valuation metrics.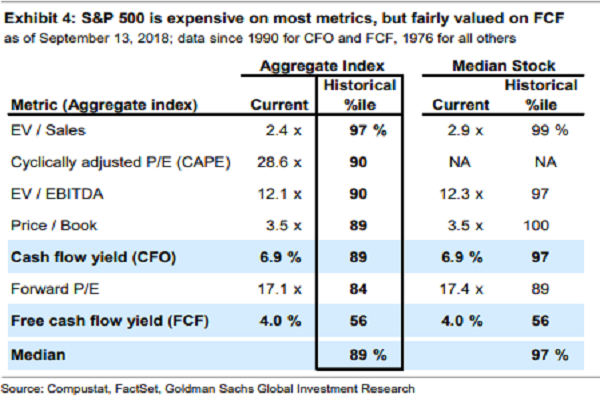 There is no longer a "pent-up" demand for equity ownership as households now have more equity exposure than at any other point in history.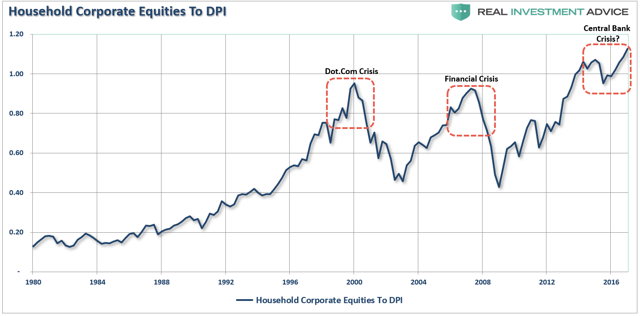 Furthermore, the market is not grossly oversold and deviated well below long-term trends as it was in 2008. As Dana Lyons recently penned:
 

"We used exponential regression smoothing to find the 'best fit' trend line on the [Shiller data] series from 1871 (h/t to Doug Short for the concept.)

After finding the best fit trend line for the composite, we can measure how far above or below prices are at a given time. As it turns out, this past September saw the composite reach 122% above the trend line, i.e., it was 122% 'overbought'. In nearly 150 years, the only months that saw prices more overbought than that were those encompassing the 1999-2000 market top - the most excessive, bubbly top in U.S. market history."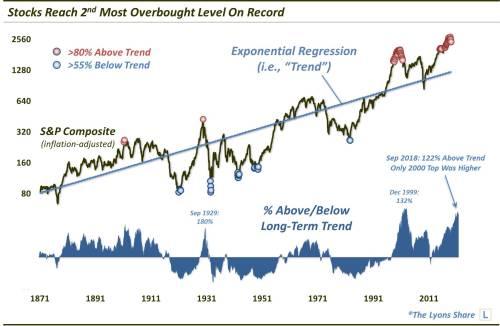 While markets can certainly remain extended for much longer than logic would predict, they cannot, and ultimately will not, stay overly extended indefinitely.
The important point here is simply this. While the Fed may have curtailed the 2018 bear market temporarily, the environment today is vastly different than it was in 2008-2009. Here are a few more differences:
Unemployment is 4%, not 10+%.
Jobless claims are at historic lows, rather than historic highs.
Consumer confidence is optimistic, not pessimistic.
Corporate debt is a record levels, and the quality of that debt has deteriorated.
The government is already running a $1 trillion deficit in an expansion not half that rate as prior to the last recession.
The economy is extremely long in a growth cycle, not emerging from a recession.
Pent-up demand for houses, cars, and other durables has been absorbed.
Production and Services measures recently peaked, not bottomed.
In other words, the world is exactly the opposite of what it was when the Fed launched "monetary accommodation" previously. Logic suggests that such an environment will make further interventions by the Fed less effective.
The only question is how long will it take the markets to figure it out?
https://seekingalpha...-kills-bear-now