Wall St. Sentiment Weekly 10/09/11
Institutional Sentiment & Analysis
Published Sunday 10/09/2011
By Mark Steward Young
Short-Term Sentiment: Mixed.
Overall Intermediate-Term Sentiment: Mixed to Bullish for themarket.
Individual Investor Sentiment: Bullish for the market.
Small Speculator Sentiment: Mixed for the market.
Small Hedge Fund/Manager Sentiment: Bullish for the Market.
Longer-term Trend:
Bear Market Condition.
Intermediate-term Trend:
Negative. Turning.
Short-term (one-day) Signal:
Buy. We're looking both ways.
We are trading these signals and others intra-day for our Premiumsubscribers--contact us for details (http://www.wallstreetsentiment.com/contact.html).
********************************************************
We are on an Options Oscillator Buy. Options are surprisingly mixed.There are a lot of Bears in the weekly poll. NAAIM Bears are shortingheavily. The low MAY be in.
********************************************************
Results of the Wall Street Sentiment Survey (formerly known as theFearless Forecaster Sentiment) taken after the close on 10/07/11:
Response was to this question: "At the end of next week will the S& P 500 close up (bull), down (bear), or unchanged/no opinion(neutral)?"
Weekly BULLS: 19%
Weekly BEARS: 67%
Our `Smart Money' Pollees were 25% Bullish and 50% Bearish.
Our Amateur Trader Pollees were 0% Bullish and 75% Bearish.
The Senticator: Neutral.
Last time, our low confidence call for a decline on Monday a bouncethat fails Tuesday, and maybe Wednesday, and then down through Friday.The S&P was down on Monday and up Tuesday Wednesday and Thursday,then down Friday. That actually wasn't too bad. I think we can take a Bfor that call. Remember, these predictions are for demonstrationpurposes and are not a substitute for trading discipline.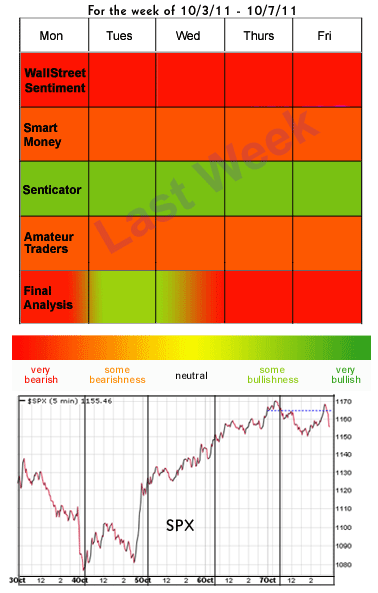 The New Sentiment Trading Modest sat flat due to the ambiguoussignal. Not a bad call. Note that this model is for demonstrationpurposes only. Past performance should not be considered a guarantee offuture returns.
Proprietary Surveys
This week, the WSS Surveyees are again rather Bearish. The "SmartMoney" is pretty Bearish and the "Amateur" traders are more Bearish.That implies more strength, though I think we might get a littleselling this week. The Senticator is Neutral. We had decentparticipation. I think we're net up on this data for the week.
Message Board Sentiment
The message board sentiment poll has Bulls at 26% and Bears at 30% Thisis Bearish, since this crew tends to be right more often than not.Participation was normal. The Actual Position Poll shows 19% fully longand 7% partially long. 4% are partially short and 33% are fully short.This is well above my 20% threshold and that is mildly Bullish. Thelack of partially short Bears and partially long Bulls suggests that wecould get some volatility. The 5-day Fully Long/Fully Short (FL/FS)ratio is still Bullish at 76%. This crew was not leaning heavily longat the low. This crew ALWAYS gets long and leans hard in the rightdirection at important turns. This makes me at least question theimportance of the low we just made. The weekly Fearless Forecaster pollshows 73% Bears. That implies some more rally this week.
Most options indicators are contrary; if most folks are buyingcalls, we want to fade them and go short and vice versa. The OEXnominal P/C is an exception, because the OEX traders tend to be right,unless they are paying up for options (which will show up in the$-weighted data). The ISEE Sentiment Index indicator is contrarian;traditionally, over 200 is too optimistic, under 100 is toopessimistic. *$-weighted P/C data courtesy of Fari Hamzei ofwww.hamzeianalytics.com . Readings over 2.0 are Bullish and near 0.5are Bearish. OBSG provided by Tony Carrion of Market Harmonics.
General Public Polls
National Association of Active Investment Managers (NAAIM) SentimentSurvey reported that the Median market exposure remained at 0%. That'sthat's a sign that we're at least NEAR a low and it may also already bein. That's unfortunately not a good enough indicator to just startbuying, however, in a Bear Market. The IT Buy is still in force, but weneed a confirmed trend change. The mean exposure went from 4.18% to-3.56%, which is not a big drop but they did go net short on average.That's Bullish. The maximum short exposure shot up to 200% short from125% short, but the maximum long exposure also shot up from 90% long to130% long. That's interesting. The most aggressive Bulls got moreBullish, and the most aggressive Bears got maximally Bearish. I waslooking for more aggressive shorting and we got it. The odds of the lowbeing in are rising.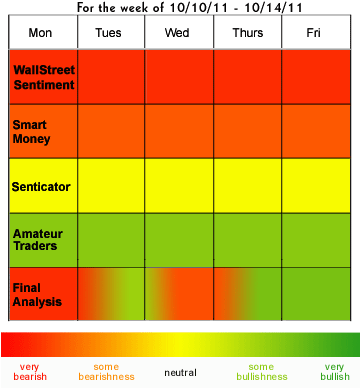 We have switched to a more robust sentiment approach with a momentumand trend overlay. Momentum is Positive but the Sentiment for thismodel is iffy. Still, other sentiment is Bullish. So, despite the BearMarket, we can nibble long a little bit at 114.15 or better. 1/2position. Stop 2 points below entry. Exit 2 points above.
We are looking both ways. We managed to take 13 points Friday. Sincewe've been publishing our ST Sentiment Signals, we've had 310 tradesand 193 winners. If you'd like a trial, feel free to contact us(mark@wallstreetsentiment.com).
****************
Ideal ETF Portfolio (tracking portfolio):
0% QLD 34.30
100% Money Market.
Sold the QLD at 97.75. We are flat.
*******************************************************
The above "Ideal ETF Portfolio" Model does not represent an actualmanaged account nor a managed account program that we offer. This isonly for tracking purposes for the KTT and Premium newsletters. Pastperformance is no guarantee of future returns. All information includedin this missive is derived from sources we believe to be reliable, butno guarantee can be made to that effect. None of the forgoing should beconstrued as an offer or solicitation to buy or sell any security. Thepublisher may have a long or short position in the funds or securitiesdiscussed at any given time. We aren't your advisor, unless you have asigned contract with us. Please review any trade that you do with yourtrusted advisor FIRST.
---------------------------------------------------------------------------------
If you'd like to receive the Wall Street Sentiment Daily, you'llneed to make sure to order at this link (please indicate yoursubscriber status in the "notes").
http://www.wallstreetsentiment.com/order.html
If you are a KTT or Institutional subscriber, your Wall St.Sentiment Daily and Premium upgrade subscription is included.
For more on using Wall Street Sentiment and the various sentimentpoll data, click here:
http://www.wallstreetsentiment.com/d/i.html
Mark Young
Editor
859-393-3335