Fari Hamzei
Info@HamzeiAnalytics.com
http://www.HamzeiAnalytics.com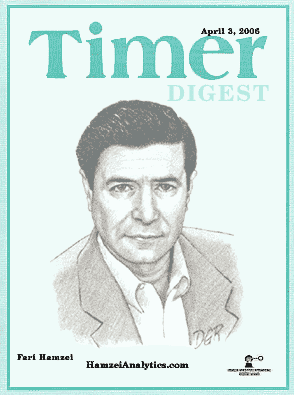 Hamzei Analytics Tied for #1 Stock Market Timer by TIMER DIGEST

Top National Ranking Achieved for Last 90 Days and Six Months;
Third Place for Last 52 Weeks
LOS ANGELES, April 26, 2006 – Hamzei Analytics, which is in its eighth year of providing cutting-edge proprietary analysis and indicators to institutional and professional traders, has tied for First Place in stock market timing in a national ranking competition by Timer Digest for the last 90 days and the last six months, as of April 21, 2006.
Timer Digest
also ranked Hamzei Analytics in Third Place for the last 52 weeks, and profiled Mr. Hamzei in an April 2006 Timer Digest cover story.
"Consistent market timing is only achieved through an intense focus on market internals, using sentiment and technical indicators, and an in-depth understanding of the macroeconomic landscape. This is what distinguishes Hamzei Analytics' services and reflects our ongoing commitment to our subscribers," said Fari Hamzei, founder of Hamzei Analytics. "I am proud that the endeavors of Hamzei Analytics have achieved this distinction. Timer Digest is a highly respected organization that is dedicated to excellence in market timing and commentary."
Mr. Hamzei is a member of the faculty of Th

e Options Institute of the Chicago Board Options Exchange (CBOE) and is a frequent speaker at International Securities Exchange (ISE) educational options conferences.

[/color]

Fari is the founder of www.HamzeiAnalytics.com, a web site which provides Quantitative Market Sentiment data, in real time, for approximately 250 of the most active Indices, Equities, Sector HOLDRS and Index Tracking Stocks. The data is dynamically updated throughout the day. It is the only online tool of its kind and you will not find it available anywhere else in its cumulative and real-time form. A must analytical tool for all serious active traders.

He is also the creator of its Dollar-Weighted Put/Call Ratios, Sector Volatility Matrix, Single Stock Volatility Matrix, and four professional trading systems: Tomcat, Tiger II , Hornet and SuperHornets. Tomcat daytrades the S&P 500 and NASDAQ-100 E-mini Futures; Tiger II swing trades the SPY, DIA and QQQ using hourly bars. The Hornets and SuperHornets swing trades nine ETF's using daily bars (SPY, QQQ, DIA, BBH, EWJ, IWM, SMH, TLT and XLF).

Fari is the Publisher of Hamzei Analytics Options Trading Service (HOTS), Editor-in-Chief of Hamzei Analytics' Weekend Update Report and is also the Group Leader of the Los Angeles TradeStation / MetaStock / RealTick Users Group, (www.ouga.com) a study group on technical analysis. In addition to being frequently quoted on CNBC-TV, he is also a frequent guest on several media outlets, including: www.marketviews.tv, hosted by Ike Iossif of Aegean Capital and WPTI Radio (www.ptisecurities.com) with Jon "Dr J" Najarian, the charismatic CBOE options market maker. Additionally, Fari was a guest speaker at the Third Annual Options Trading Forum in Chicago and is also often quoted on RealMoney.com.

Fari Hamzei is also the author of

Master Traders, Strategies for Superior Returns from Today's Top Traders

:

"Fari Hamzei knows a lot about the markets and so do the traders/analysts he has assembled here. From sector analysis to option strategies, from price and volume to volatility, there is sure to be something of interest in this compilation for every trader."
-- John Bollinger, CFA, CMT, www.BollingerBands.com

"Fari Hamzei has assembled an impressive array of trading authors. Fari's own work on Sentiment Indicators is definitely worth reading, as usual, as is technical 'master' Phil Erlanger's. Furthermore, there is plenty of useful information on derivatives in the chapters by Alex Jacobsen and Jon Najarian."
-- Lawrence G. McMillan, The Option Strategist, and President, McMillan Analysis Corp.

"A straight forward, down to earth guide to using technical analysis, tips from the master traders, and excellent options information for successful trading. In my opinion, a manual every investor can profit from."
-- Ned Bennett, CEO/Principal, optionsXpress, Inc.

"Fari has assembled a unique series of insights from expert market practitioners. Trading is a skills-based strategy; the robust diagnostics examined in the book thoughtfully clarifies these required disciplines."
-- Gil Caffray, Managing Partner, FrontPoint Partners LLC


Subscription Information:

*For HOTS, Gold and SuperPlatinum Packages:
*$29.95 per month for the
H

amzei

O

ptions

T

rading

S

ervice
**Traders-Talk Members get a special discount by using this link: HOTS Discount
A monthly options trading newsletter featuring 16 options trades. Strategies include
Long Calls, Long Puts, Naked Put Sales, Synthetic Long Stocks, Credit and Debit Spreads.
Also includes market overview, analysis and charts. Auto-Trading of the options trades is also available via the following brokerage firms:
www.optionsxpress.com
and
www.ptisecurities.com
*$39.95 per month for the
Gold Package
This sophisticated Sentiment Research tool provides
Real-Time Dollar Weighted Put/Call Ratios
, Most Active Options Chains, and
Uniform Volatility Matrix
. End of day reports include Market Implied Volatilities and Morning Head Fake.
$79.95 per month for the
SuperHornets v2.0 Package
An advanced version of our popular Hornets. This Proprietary Trading Service swing trades nine ETF's: SPY, QQQ, DIA, BBH, EWJ, IWM, SMH, TLT, and XLF. Superhornets are equally biased going Long or Short, and provides BUY and SELL signals along with Trailing Stop orders. With Version 2.0 we will also be adding some select Big Cap and High Beta stocks to the package. This is a stand-alone product and does NOT require a subscription to the TradeStation platform.
*$99.95 per month for the
SuperPlatinum Package
**Traders-Talk Users get an additional discount by ordering through this link: SuperPlatinum Discount
Advanced Real-Time Market Sentiment Analysis and LIVE trades via our integrated Instant Messaging System. Real-Time Options Block Trades, plus our widely followed Daily, Weekly & Monthly Support and Resistance Levels for E-mini futures, Indices and Stocks. Interactive Charting and Data Mining of our proprietary historical database of Put/Call Ratios and Volatilities enables traders to evaluate our real-time sentiment data.
$199.95 per month for the
Diamonds Package
TradeStation strategy codes for three of our Proprietary Trading Systems: Tomcat (for intraday trading S&P-500 & NASDAQ-100 E-mini Futures), Tiger II (for intraday trading SPY, QQQ & DIA) and Hornets (for Swing Trading nine ETF's (SPY, QQQ, DIA, BBH, SMH, XLF, TLT, IWM & EWJ). Requires a subscription to the TradeStation platform for Systems Trading. Also includes all features of the SUPERPLATINUM package.
To order or find out more information, visit
http://www.HamzeiAnalytics.com
or call 1-310-306-1200 between 08:30 to 11:30 PST and after the market closes....