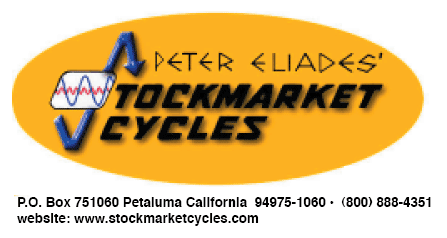 BIOGRAPHICAL/ PROFESSIONAL PROFILE
Peter G. Eliades, Editor and Publisher, Stockmarket Cycles
Born 5-26-39 in Lowell, Massachusetts
Lowell High School – 1956
Harvard College, A.B. 1960
Boston University Law School
J.D. –1963 (passed Massachusetts Bar Exam)
Married – three children
Upon graduation from Boston University Law school, Peter Eliades moved to New York City where he entertained as a singer and pianist in Manhattan cabarets and off-Broadway musical comedy. In 1967, he moved to Los Angeles and continued his musical career. In 1968, with a lot of time and curiosity and a little money, Mr. Eliades initiated his stock market studies.
In 1972, he began his financial career as a stock-broker and appeared as a stock market analyst on Los Angeles television station KWHY, the nation's first financial TV station. Several times in the fall of 1974, he predicted on KWHY that a major market bottom would occur during the week of December 9-13, 1974. The exact Dow low of 570.01 occurred on December 9, 1974. Publication of Stockmarket Cycles began in July of 1975. In 1985, the first year he was rated by the independent rating services, Mr. Eliades earned the Timer Digest's "Timer of the Year" award and placed second in 1986 in a close race which wasn't decided until the final trading day of the year. In 1989, Mark Hulbert (Hulbert Financial Digest) named Mr. Eliades as the "Most Consistent Mutual fund Switcher" based on Eliades timing signals for the years 1985, 1986, 1987, and 1988. From January 1985 when Hulbert first started rating Stockmarket Cycles, through August 1990, Stockmarket Cycles had the #1 market timing record in the country with a timing gain of 174.3% versus a comparable gain in the Wilshire 5000 Total Return Index of 119%.
Mr. Eliades has been a regular panelist on ABC's weekly Sunday show, Business World, and has made guest appearances on FNN, CNBC, Wall Street Week, and Nightly Business Report. He has been featured in some of the nation's most prestigious publications including Barron's, The Wall Street Journal, Forbes and Futures Magazine among others.
Mr. Eliades' theory of price movement in the stock market relates to repeating cycles rhythms. Fundamental news has no effect on market timing and affects only long-term trends. In over 16 years of uninterrupted market letters, he has rarely mentioned a fundamental news story in relation to the market. Mr. Eliades' analysis is 100% cyclically and technically oriented.
Stockmarket Cycles
provides market timing for the more important intermediate to long term trends for mutual fund switching. Short-term timing is also provided for stock index futures and index options via the daily telephone updates.
Mr. Eliades' newsletter is technically oriented with an emphasis on market cycles. It specializes in both long term and short-term timing and is published every three weeks. Included with the newsletter is a telephone hot line.
There are two options available:
#1) Daily Telephone Update with Newsletter ($480 per year, $261 – 6 months, $90 – 2 month trial)
bullet It is geared to assist short-term market traders.
bullet It features exactly the same mutual fund instructions as mutual fund update.
bullet It describes technical indicators and cycle price projections dealing with short-term timing for the popular market averages.
bullet It gives specific recommendations:
- For stock index futures trading
- Occasional price projections and recommendations
- For bonds, gold and Euro-dollars
bullet It is available by fax (additional $228 per year) or e-mail ($60 annual discount).
#2) Periodic Mutual Fund hot-line with Newsletter ($252 per year)
bullet All mutual fund advice is given on the telephone line.
bullet It is updated only when there are specific mutual fund instructions or changes in instruction.
bullet If there is no new message, there is no answer.
bullet The section on "Mutual Funds" in the newsletter reports all switches made between letters.
bullet He gives general timing recommendations for those who choose their own funds.
bullet He almost always recommends only one fund per portfolio
- The Fidelity Select group of funds. (sector funds)
- The Rydex group of funds. (index based funds)
bullet The messages are available by fax (additional $1.00 per fax billed quarterly), or e-mail ($33.00 annual discount).
Contact Information
Telephone 800-888-4351 or 707-769-4800
FAX 707-769-4803
Postal address
P.O. Box 751060
Petaluma, California 94975-1060
Email/ General Information:
suedavy_smc@comcast.net
Website:
StockMarketCycles.com