Help Topic: Posting regular images/charts in messages
This tutorial assumes you have already clicked on the "New Topic" or "Reply" button and have entered the New post/Reply screen of a forum at Traders-Talk.
StockCharts.com has a different way of posting their charts to the internet. That's because they are
dynamic
images. That's also why their image strings are so loooooong, and why there's no image extension* at the end of the string. This means that these images can "update" as the day goes on. There is a separate tutorial for posting StockCharts Charts in a post. If you are attempting to post a StockChart, please visit that help topic, as this one won;t be of much use to you.
(*image extensions are the .gif, .png, .jpg, or .bmp endings. By the way, there are the only extensions we're allowing on this board for now.)
Other images that are
static
aren't as difficult to post. And for those of you who are looking for other pictures to post, or even for avatar images (images next to some member's names) this is where you'll find help for this.
If the image you are trying to insert into a post is not online, but on your computer, you will need to either find an online host for your image (such as imageshack) or make a >$25 donation to the Traders-Talk Operation Fund to upload directly to our server.
As our thanks for supporting Traders-Talk by making a donation, we will allow you to upload images directly to our server from the posting screen. See the screen image at the bottom of the page to see how easy this can be.
Click here to review donation options.
This method is very similar to the StockCharts method, except that normally there will already be an image extension, and the string will be shorter (and frankly a little more understandable.)
I picked a butterfly image to use an example. This image is already hosted online and we will show you how to use this image in a post at Traders-Talk.
Left click on any image already online (meaning, place your mouse over the image and click the left mouse button on your mouse). Click on
Properties
or
Copy Image Location
This is the IMAGE Property you will need to enter (paste) into the image text box of the new topic/topic reply screen in order to make the image appear in a post.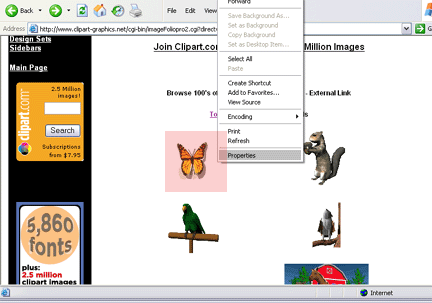 Select the entire URL of the image and click CTRL+C or copy the entire link (the physical location of the image online).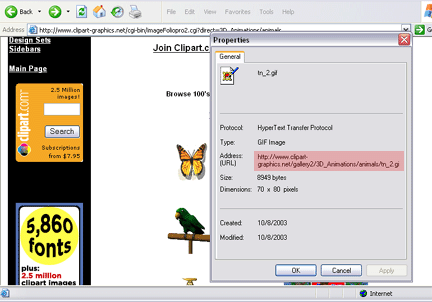 Once you have copied the location of the image online, you may want to test it. You can open a new browser window and paste the link in the new browser address bar. If the image you want to appear in your post appears in the new browser window, you're doing great.

After you've copied the link of the image and you've tested the image in a new browser window, you're ready to enter it into a post at Traders-Talk. Click on the image button on the forum screen.
(see red arrow #1 in the image below)
It looks like this:
A popup text box will appear and this
(see red arrow #2)
is where you paste the image link you just copied from image properties. Then click the OK button. Make sure the link is where you want it in your post, then click [Post New Topic]if you are starting a thread, or click on [Add Reply] if you are responding to someone else's comment in an existing thread. You can always preview your post before you post it. This button is next to the post button just mentioned.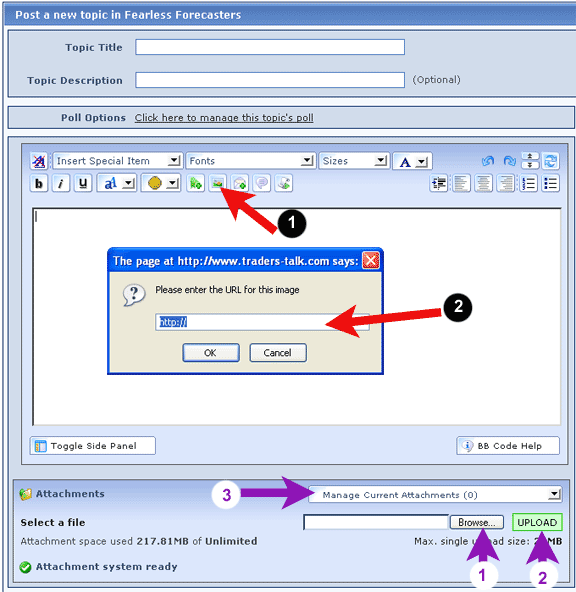 Easy, huh?
Note: If you have made a >$25 donation to Traders-Talk in the last 12 months, you will also have the option to upload images directly from your computer to our server.
If you are a Traders-Talk Member+, Patron or Sponsor, you can simply locate the image on your computer
(see purple arrow #1)
, click the upload button
(#2)
and then manage your attachments (add into post or delete the image) from the drop down box at
#3
.
If you are only a guest or a user, you will not see this option, and may want to walk, no, run to your nearest PayPal account or credit card and make that donation that gets you the cool stuff all the other kids are using to help keep Traders-Talk the best place on the Internet.
**It is important to note that by pasting in images that are located elsewhere on the internet that the image may change or disappear at the discretion of the image host website. You might also want to check to make sure it's not a copyright violation by posting someone else's image.
NOTE ON AVATARS
If you save an image on YOUR computer and want to upload it here (as an avatar, for example) it will be hosted on THIS site and will only change at OUR discretion.

All avatar images will be automatically resized to 100x100, so if you want the image to look right, make sure you upload the avatar as a (or as close to) 100 pixels wide image.
<! --- START GOOGLE AD FOR TRADERS-TALK----!> <! --- NEW GOOGLE AD CODE FOR TRADERS-TALK --!> <! --- END GOOGLE AD FOR TRADERS-TALK----!>
Help Topic