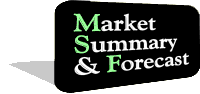 Larry Katz
email me at: lk1618@comcast.net
website link: www.marketsummaryandforecast.com
Larry Katz serves as both editor and research director of Market Summary and Forecast. Mr. Katz is a full member in the Market Technicians Association and is both one of the founders and the president of their Southern California Chapter. He also serves on the management committee chairing the membership committee. Mr. Katz is a regular contributor to Top advisors corner on America On Line. He is a regular guest on the Business Channel in Los Angeles with Richard Saxton. He has been a quest speaker of the Market Analysts of Southern California (MASC), the Omega users group of Thousand Oaks, Ca. and Orange County, the Market Technicians Association Atlanta Chapter as well as the Foundation for the Study of Cycles. He also ran a workshop at the Market Technicians Association 1999 Annual Seminar. He has been a regular commentator on the Reuters Financial network, both in the US as well as in Japan, as well as being published in the Market Watch section of Barrons Magazine on a number of occasions. He is currently ranked in the top five for intermediate term gold timing by Timer Digest.
For a detailed explanation of the services we provide you are invited to go to our web site at
www.marketsummaryandforecast.com,
where you can also receive a free two-week trial to all of our services.
You can E-mail us at
lk1618@comcast.net
or write to:
Market Summary and Forecast
3835R E. Thousand Oaks Blvd PMB 297
Westlake Village, Ca. 91362
or call the office at (818) 889-0485