As everyone seems glued to their twitter accounts or their news feeds, the market has been both rallying and fading despite all the negative news of these trade wars that are supposedly going to tank our equity market.
I mean, its not like we began this correction well before trade wars began in earnest. Right? In fact, does any of this surprise you in any way, especially since the President certainly told us that these are some of the actions he will take even before he became POTUS. And, if you suggest otherwise, then you are simply not being honest with yourself.
Wednesday's action was a perfect point of how many fool themselves into believing that news is the primary driver of the market. While the market did drop overnight after China followed through on its promises of reactionary tariffs (which we knew about well before it occurred), many were quick to point to Wednesday's rally as being "caused" by Larry Kudlow's statements made later that day.
Now, if Kudlow had made this statement at 6:30am on Wednesday morning when the market actually struck a bottom, maybe you can point to a catalyst for the 110 point rally we had off the overnight Wednesday low; a rally which was almost twice as large as the decline.
But, Kudlow did not make his statement at 6:30 when the market bottomed. Rather, he made it much later in the day, after the market had recovered most of the overnight drop. How many of you even bothered to recognize that fact before you assumed the rally was "caused" by Kudlow? Yet, I am certain many of you were quick in accepting that the rally was certainly "caused" by Kudlow because that is what you were fed by the media and pundits.
Now, what if I told you that around 6:40am that morning, I posted a chart that showed the potential of the market rallying off that morning low up towards the 2620-2640 region? And, no, I had no clue what Kudlow was going to say, or that if anyone was even going to say anything at all.
You see, the news most often falls within the cycles we follow in the market and does not create them. And, any news that does not fit the cycle is summarily ignored by the market. While this sounds counter-intuitive to most market participants, those that follow the market very closely and have taken an honest look at market movements will certainly recognize the truth of my words.
And, it is for this reason that markets will often ignore bad news during an up-trend, and ignore good news during a downtrend. Weren't any of you following the market in 2016 and 2017? It also makes a lot more sense of the market as compared to how most pundits attempt to fit their square pegs into rounds holes regarding market action based upon some of form of news.
So, when President Trump or any of his staff issue a statement or tweet, I would suggest you tune out the noise, and follow the patterns presented to us in the market. When you learn what to look for it will amaze you at how much all these news events are really simply noise. And, I can assure you it will make you a better trader and investor when you learn to tune out the noise.
As far as the market is concerned, pressure will remain down to lower lows if we remain below 2623 in the futures early this coming week. A strong rally over 2623ES, which exceeds the high we made last week will point us back up towards the March highs. And, such a rally would only extend this correction into the May/June time frame.
And, again, I want to reiterate that, as long as we remain over the 2400SPX region, I still maintain targets of 3000+ in the SPX before we see a 20%+ correction take hold.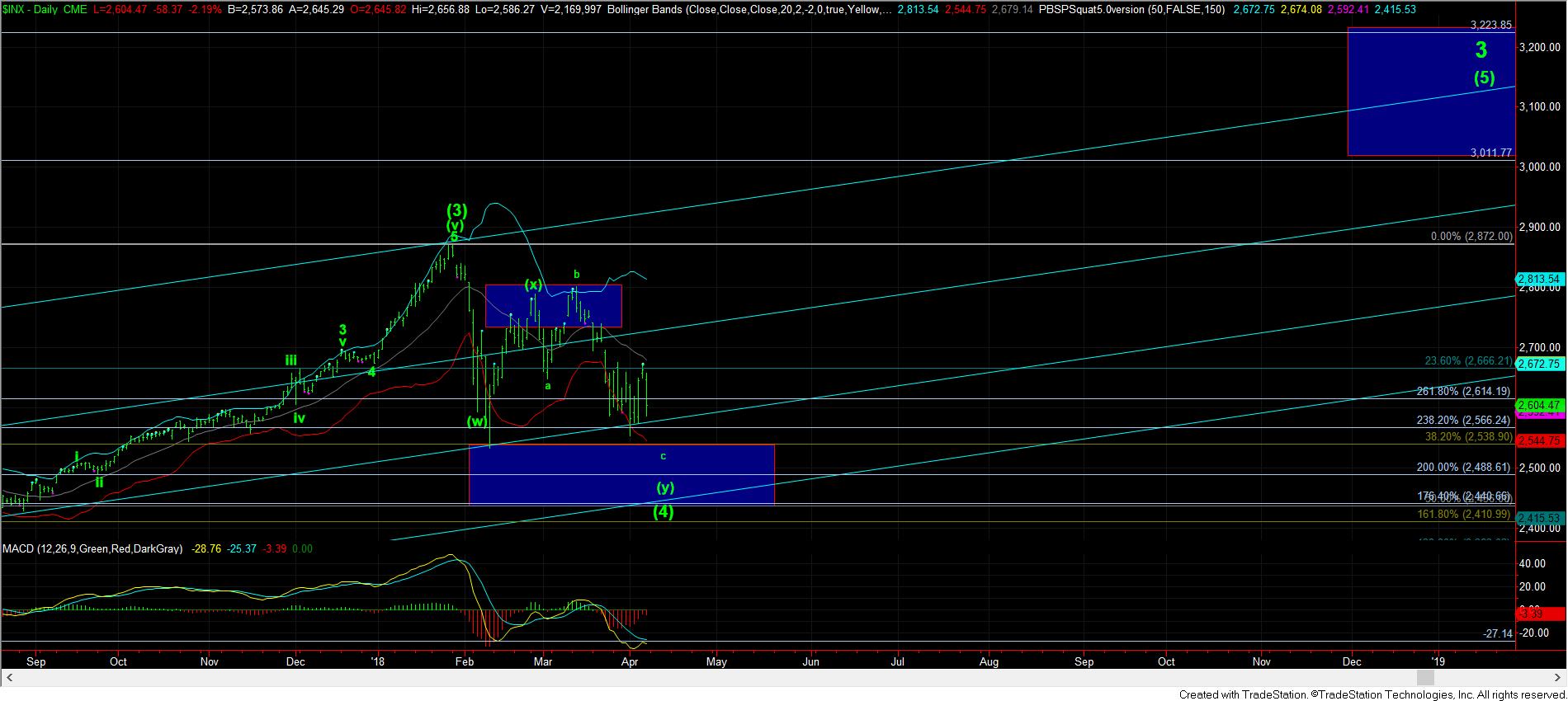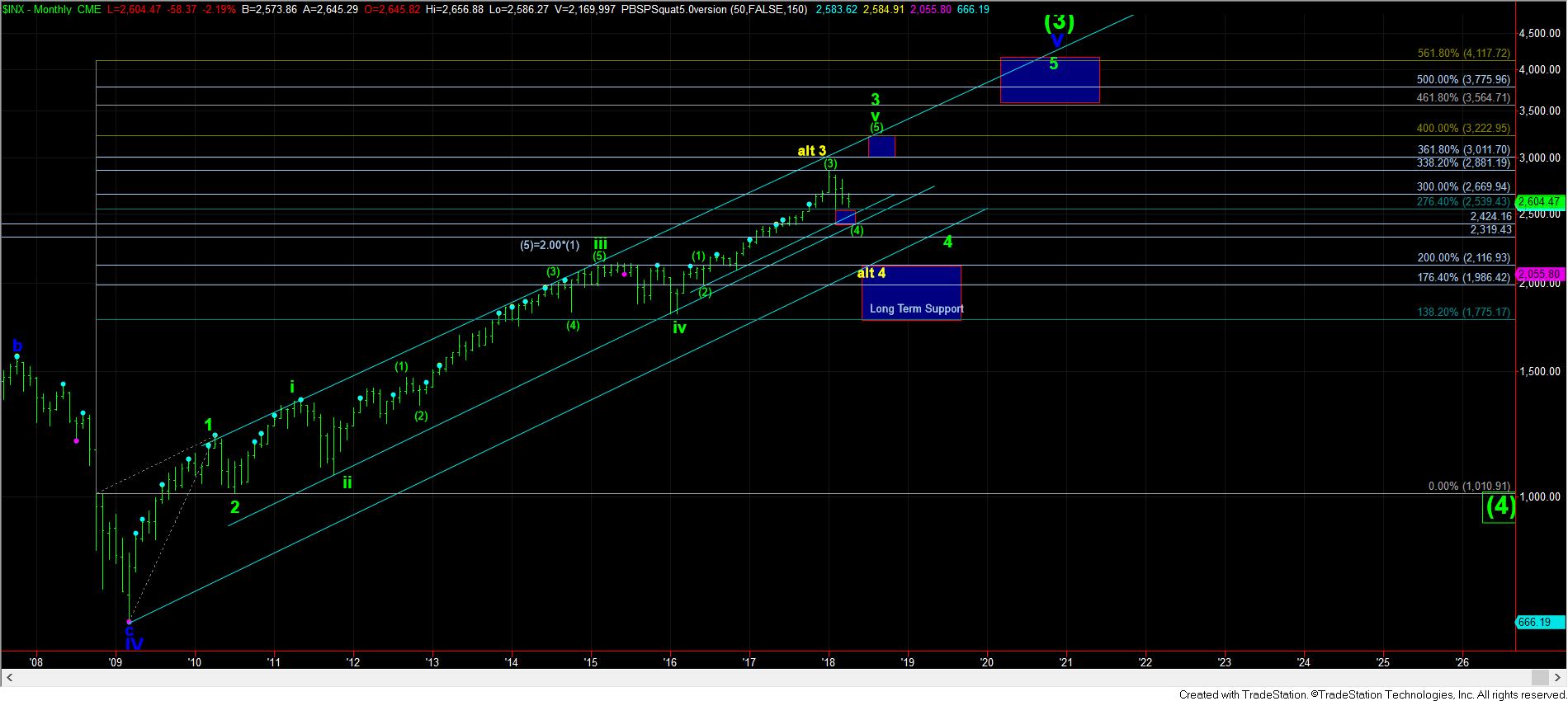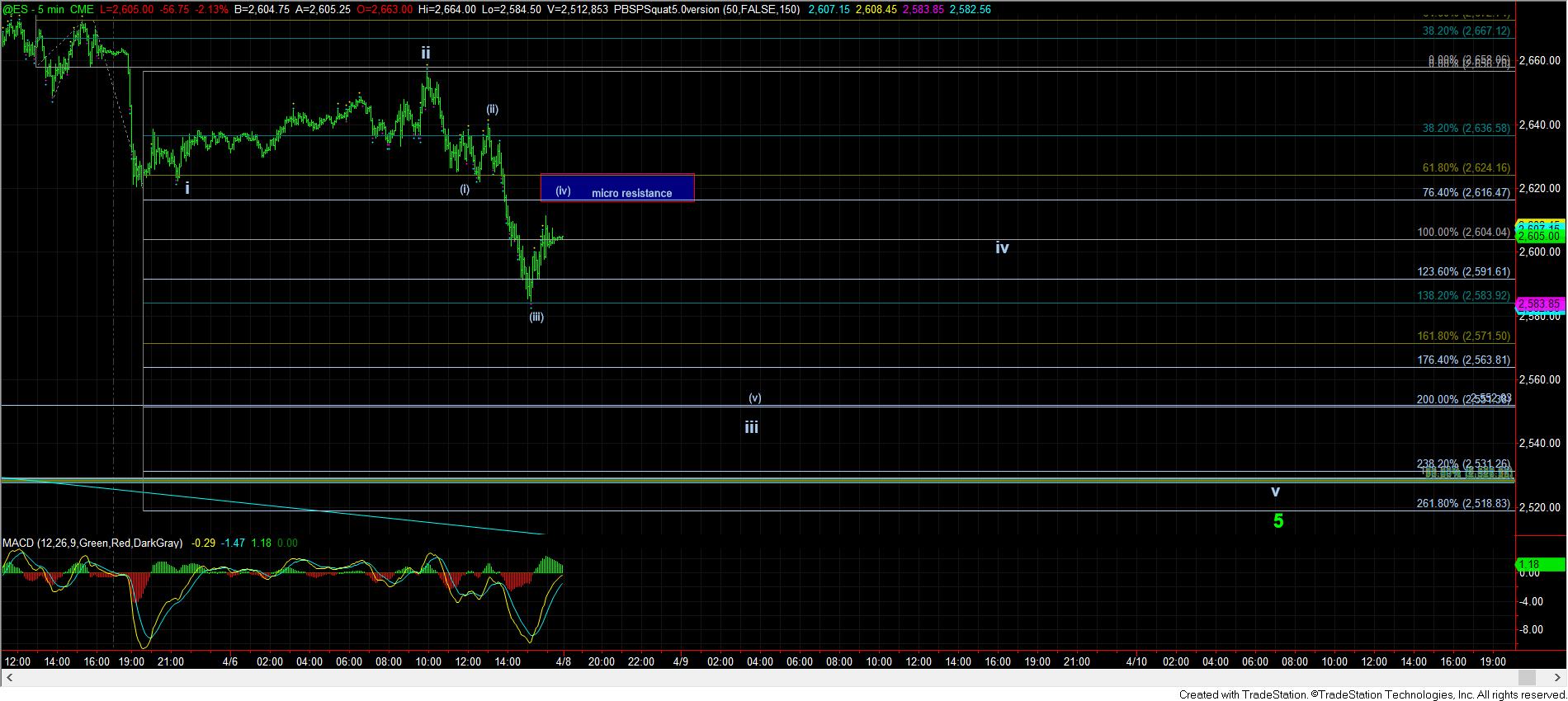 See charts illustrating the wave counts on the S&P 500.
Avi Gilburt is a widely followed Elliott Wave technical analyst and author of ElliottWaveTrader.net (www.elliottwavetrader.net), a live Trading Room featuring his intraday market analysis (including emini S&P 500, metals, oil, USD & VXX), interactive member-analyst forum, and detailed library of Elliott Wave education.