A torn ACL can heal itself, new study shows.
Of course many surgeons performing the $25,000 surgery disagree...
New research, which focused on 80 injured knees, found that many torn ACLs can apparently knit themselves back together and heal naturally — reducing the need for expensive and often painful surgery.
An orthopedic surgeon and his physician son developed a specialized, new bracing protocol, designed to keep the injured knee locked in a 90-degree angle for a month, so the ligament's tattered ends could be held close together to facilitate healing.
While braced, patients completed extensive physical therapy exercises, such as repeatedly clenching their thigh muscles, to reduce atrophy.
Therapists relaxed the brace's angle every few weeks and removed it after 12 weeks. The injured knees were scanned at the start and end of the three months.
Reviewing scans from the first 80 patients for the new study, Filbay and her colleagues noted healing — which they defined as MRI signals indicating tissue was bridging the torn edges — in 90 percent of the knees.
Meike van Haeringen, a Danish medical student in Melbourne who has torn both ACLs playing field hockey and is now part of the research team studying ACL healing.
In 2018, surgeons reconstructed her right knee, but more recently, her left knee was treated with the new bracing protocol.
"At this point, I can do everything I want to do with both legs," she said, including playing elite field hockey again. But while her right leg, with its surgically constructed ACL, "feels like it's at about 90 to 95 percent" after five years, her left leg, in which the ACL seems to be healing, "is at 95 to 100 percent already, after 13 months."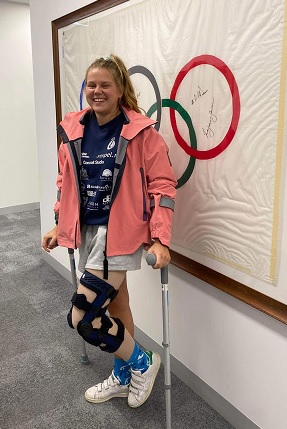 Edited by Rogerdodger, 28 June 2023 - 10:40 AM.