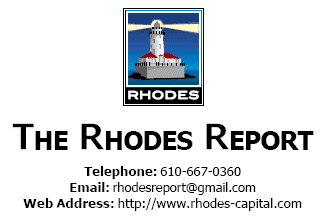 Richard Rhodes has been involved in the capital markets since 1983 as a private trader. Upon completing his MBA graduate work from the American Graduate School of International Management better known as "Thunderbird", Mr. Rhodes has the unique experience to live and work overseas in various executive management roles. Mr. Rhodes has penned The Rhodes Report on a full-time basis since 2001 and continues to do so to this day.
Clients of The Rhodes Report Letter include a wide variety of banks, brokerage firms, mutual and hedge funds. Richard is also quoted from time to time in a wide variety of publications such as Dow Jones Newswires, Bloomberg, Barron's, and MSN MoneyCentral.
Subscription Information
The Rhodes Report is a daily publication available in annual and semi-annual packages.
6-month subscription $139
Annual subscription $249
Contact Information
Website:
TheRhodesReport.com
Subscribe Online:
Subscription Order Form
richard@therhodesreport.com
The Rhodes Report
531 Kenmore Rd.
Merion Station, PA 19066
610-667-0360