Good "Larry Kudlow" pop during the final hour yesterday, followed up a strong overnight rally, but it's still 
ST & IT DOWN
Can BULLS save this V-rally, during most of 2019 so far, with a daily close above the SPX 50ma (looks easy at this time of the day) and then take it above SPX 2660 to re-establish the IT long status?
I don't think so but I am always open to changing my outlook if the market tells me to do so.
It has been a VERY BUSY morning trading for me with really good NQ longs and a few average NQ shorts. 
Bearish Island Reversal Forms With Tuesday's Selling
Most of our major indices and sectors are battling overhead 20 week EMAs for the first time since the hefty December decline.  Here's the S&P 500: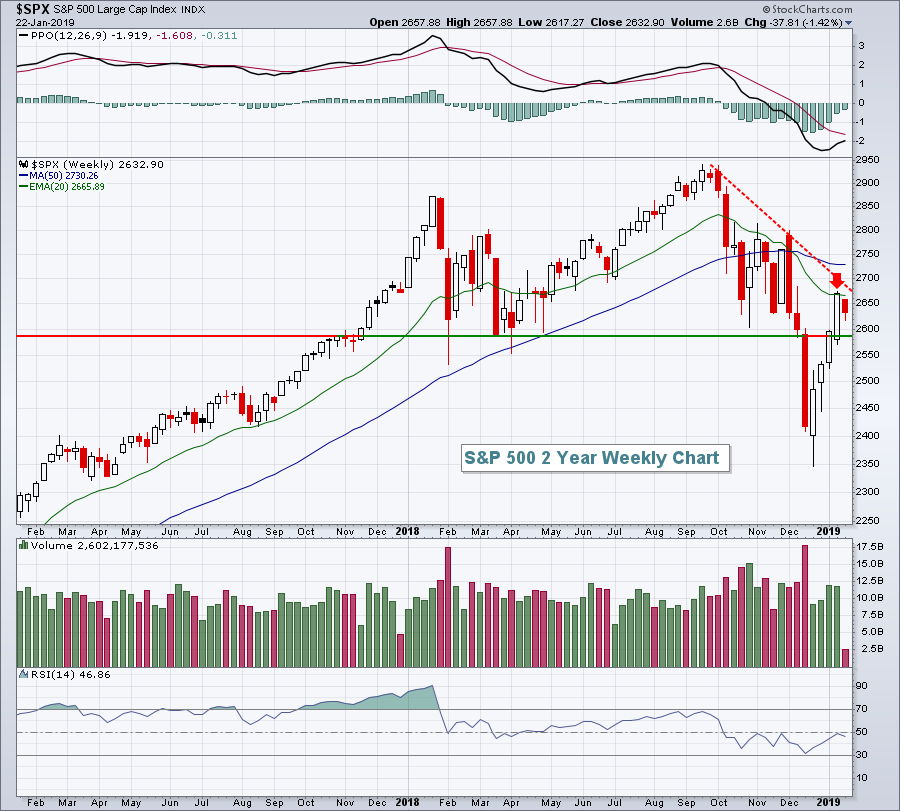 While yesterday's reversal was important for the bears, it really doesn't hurt the bullish view - at least not yet.  After all, U.S. indices have move higher nearly uninterrupted since their December 26th low.  A bit of profit taking and consolidation is never a bad thing, as long as it remains contained - and that will be the key.  The Volatility Index ($VIX) held 16-17 support similar to prior bear markets, so this battle is likely just beginning.  From the bulls' perspective, they want to see the rising 20 day EMA hold as support and eventually break above the recent price high and the red-dotted downtrend line shown above.  For the bears, it's the opposite.  They'll need to hold the line of price and trendline resistance, while counting on another bout of impulsive selling to clear that 20 day EMA support hurdle.  The higher VIX is a major ally of the bears.
https://stockcharts....ys-selling.html