The purest plays, assuming you are not doing futures, will be SLV, AGQ (2X) USLV (3X) depending on your appetite for volatility...
In the Family IRAs, we are 2/3 long AGQ and 1/3 USLV. (USLV already up nearly 50% since last entry

)
USLV will be sold when over extended and re-aquired on the selloffs over the coming years.
The 3x funds get brutalized on the corrective waves, but over time, they will far exceed 3x return in a long bull market due to the gearing effect.
For instance, TQQQ is up about 40X (was up over 50x) since starting to emerge from the dip in 2011, which is probably about roughly where we are now on Silver in the scheme of things (assuming this is finally the real launch).
TQQQ had multiple 25-40% drops on the way up to those returns (last drop one was 63%, but already now up 140% since then), and I would expect USLV might behave similarly. So if you sell when IT momo starts fading, odds are you will be able to buy back in much cheaper a few months down the road. If you can time just a couple of the corrections anywhere near right, cost of original entry can be drastically reduced to possibly well below Zero (assuming you don't lever up on the share count on the dip).
So, IF silver ends up taking out $50 and going far beyond, USLV could see 50-100X gains over time if the bull runs long enough.
On AGQ, since it has options, plan is to sell calls on extended up moves, and gradually reduce cost of entry to below Zero over the coming years (again assuming this is finally the real launch)
If it gets ridiculously over extended on a swing, may even sell out for an bit, pocket a few bucks that way. But intent is to generally stay long this one, and not over trade it.
Since we are in this go round at a bit over $20, wont take too many call sales or scalps to make that up, especially if it starts trading over $100 in the not too distant future, where $4 and $5 worth of expired calls or scalps at a go should not be too difficult.
Note that neither AGQ nor USLV has even moved back above 900 day MA yet.
If we do enter a Silver bull market, which SLV is now strongly hinting at, eventually AGQ and USLV will be far, far above the daily 900s....
Below are some reference charts of what "could" happen if Silver launches into a long running bull market here...note the drastic out performance of the 3X fund vs the 2X over time...albeit with some massive volatility.
QLD has more history, so you can see the transition into LT bull a bit better as it moves over the 900 day MA and slowly builds momentum over time.
And remember, this is with about a 5X move on the Qs since 2011 at the recent peak, or the equivalent of silver going to 75-80 from today's levels.
QLD (2X Qs)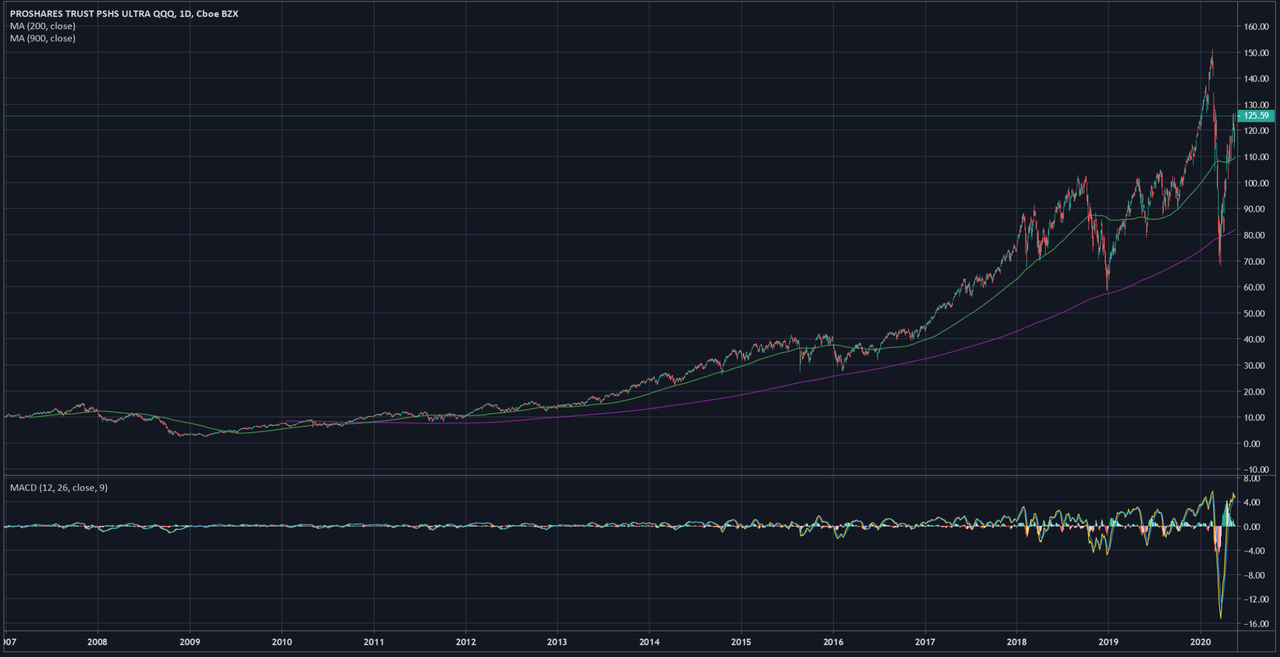 TQQQ (3X Qs)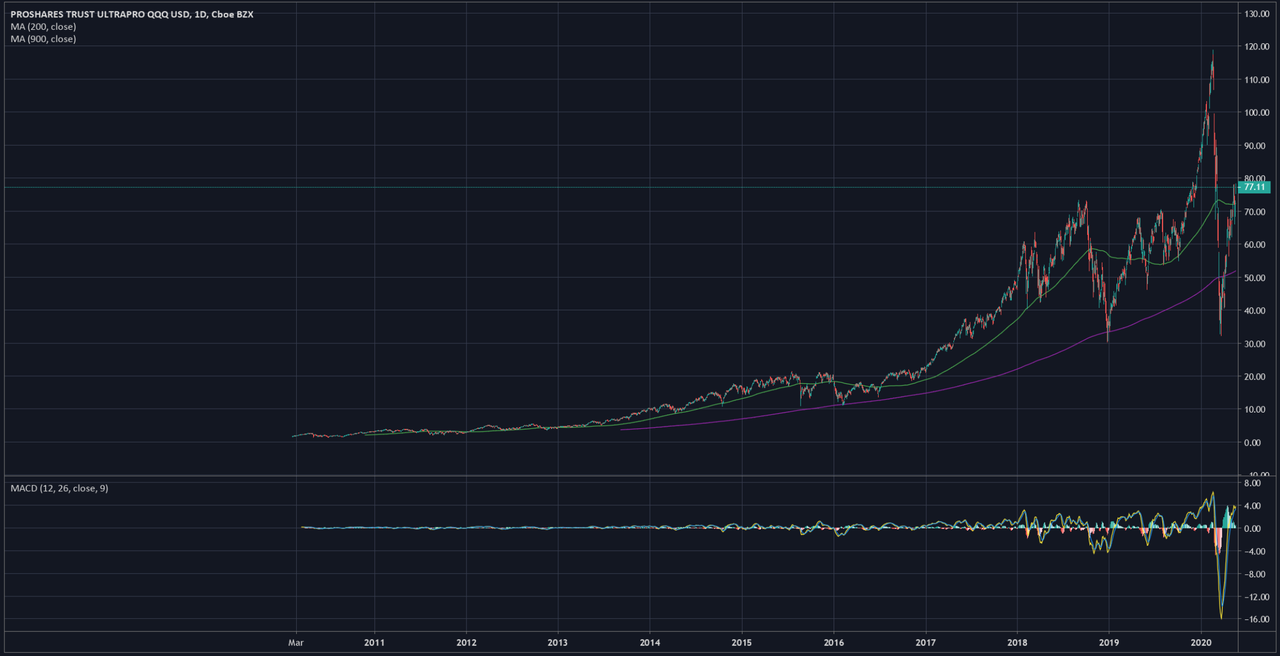 .
Edited by K Wave, 19 May 2020 - 12:46 AM.