https://www.armstron...oyer-of-worlds/
Armstrong seems to be waffling at the end of this article, downplaying how serious this virus is even though he is talking depression words in this article now.  In January he said on video that the next target for the Dow was 40K and then 65,000 by 2032.95 and he said Dow would have to go to 19000 (see chart below) for a bear market which he said was a long way away and dismissed then. My own work has shown since December that there would be a big SPX low around April 3 but I also have trends on the NYSE for a big low in 2021 and MA said before the virus crash there would be an earnings slump into 2021.
"Anthony Fauci has created a Great Depression and unemployment will jump from the lowest since the 1960s and may retest the Great Depression high of 20%. There was a forecast that unemployment would retest the lows going into 2019 and then rise into the 2023 period where it could be a slingshot up to retest the Great Depression highs. It has always been my job to just report what the computer projects. Some people try to challenge me on a personal level. You cannot fight the message, so attack the messenger. I have said every time that I second guess the models, I am the one who is wrong. This was one such forecast I was uncertain about. I could not see fundamentally how the economy could collapse so fast. But low and behold, fate has given us Anthony Fauci which I believe will have destroyed more businesses and wiped out more jobs than any economic event historically surpassing the Great Depression and war.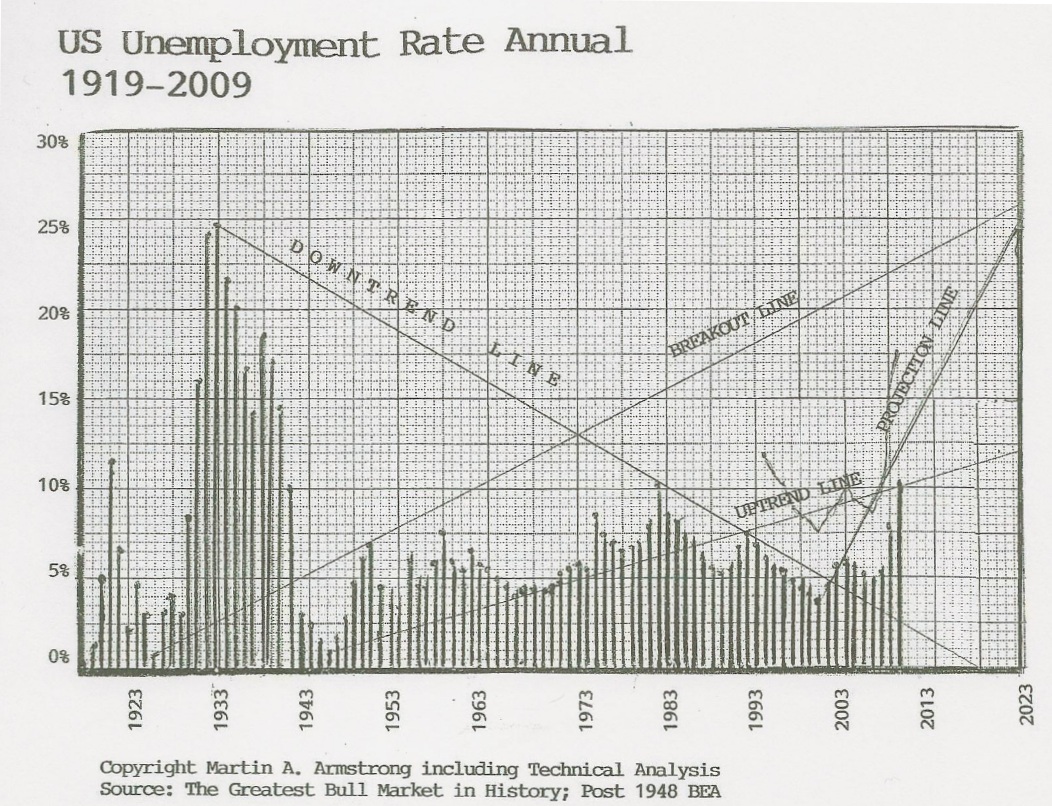 The US Congress is still debating its relief bill. They have no idea what is unfolding.
Illiquidity is exploding and hedge funds puke their guts out all over the street. Even some bond funds in Europe and Sweden, as well as Denmark, have suspended all redemptions.
The panic to the US dollar has been massive. This will only undermine emerging market debt. The Fed can try to inject dollars, but this will have no effect since the demand far exceeds the supply.
The fear factor the medical industry has created over Covid19 is unbelievable where 13% of Americans think they are infected. There is now little doubt that this fear factor has overwhelmed the markets and the economy. Trump has delegated the response to the States, which may be a mistake. Some states are overreacting and many have started to shut down their economies ordering people to stay home into the week of April 6th. Universities have switched to online and many may have just closed for the year. German chancellor Angela Merkel is in quarantine as in US Senator Rand Paul. A member of the Vice President's team tested positive but not the Vice President.
There still remains the risk that Europe may close its financial markets as they did in World War I. There remains also the risk that they will declare a 

BANK HOLIDAY

 and they are still looking at using the crisis to cancel all paper currency.
I do not see where Fauci's recommendations have been warranted. This may be a little more aggressive than the flu, but we are still not talking about it reaching an epidemic. It has already subsided in China and South Korea. My discussions with medical doctors in Italy suggest that nobody has died from this virus alone. They have some precondition and then the complications lead to death when severe. This is not the Black Plague."
Edited by Russ, 22 March 2020 - 07:30 PM.