Russ, Armstrong used to have Dec 2032 as his Pi date for the peak, now it's 2034. Very curious.

 

 

His econ cycle date for 18 Jan 2020, while 6 weeks early, was nonetheless brilliant.
Smithy,   Actually the Jan 18, 2020 date was bang on, the NYSE peaked a day before that date and then that led to the panic low in March.  The 2032.95 date still stands for the peak of western civilization, that will be the convergence of the 8.6 year, the 51.6 year and the 309.6 year cycles which are all related to each other. The 2034 date is regarding inflation which is confusing to me because if 2032.95 is the peak for western society then why would prices keep going up for 2 more years after that?  Nonetheless it is the Marty's baby so he is the most qualified to speak on it.  Latest chart of MA's model is below, he points out that he and his computer predicted a Trump like President would be elected - over 3 decades before Trump was elected.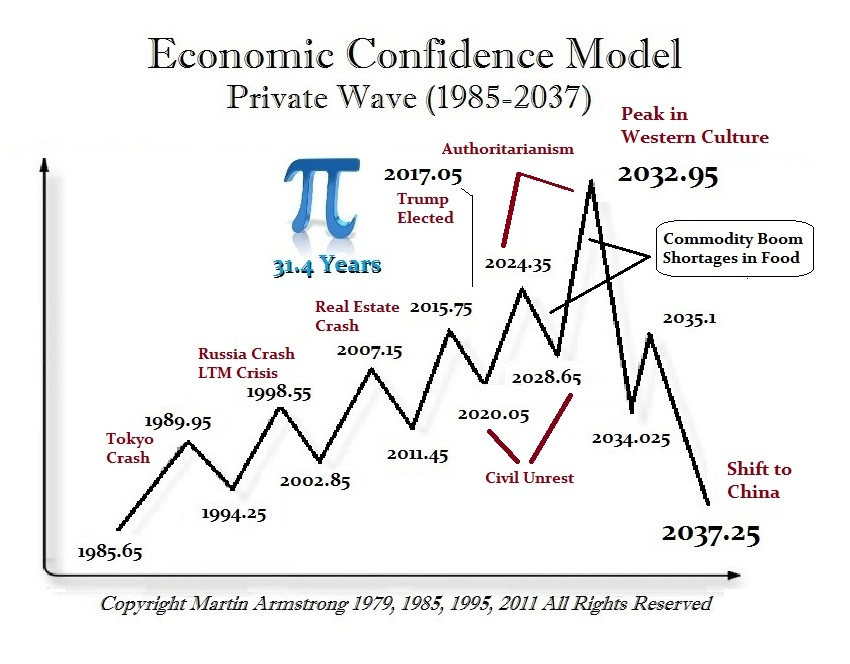 Edited by Russ, 14 October 2021 - 11:26 AM.