Bitcoin Protests
Started by
Rogerdodger
,
Aug 31 2021 01:45 PM
Bitcoin
Posted 31 August 2021 - 01:45 PM
Today's Bitcoin news:
El Salvador Bitcoin Protests
Retirees in El Salvador protest against Bitcoin adoption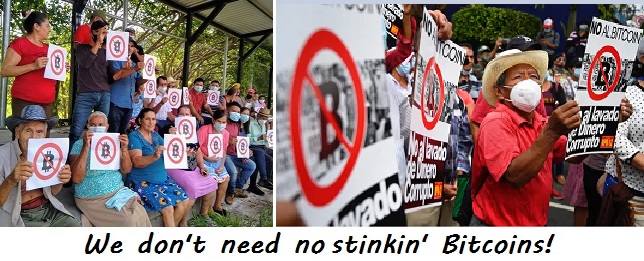 IMF warns nations against adopting crypto assets as legal currency.
 
---
Posted 31 August 2021 - 10:04 PM
Skepticism grows in El Salvador over pioneering Bitcoin gamble...
Litha María de Los Angeles slaps two cheese-filled pupusas – the El Salvadoran cornmeal flatbread – on the griddle. With a camera click on the QR code, she receives her payment: four hundred-thousandths of a Bitcoin. Then, as the rain pelts the corrugated iron roof and a gust of wind lifts the blue plastic table cloths, the power cuts out.
A tumultuous few weeks awaits El Salvador as it prepares to become the first country to adopt Bitcoin, the world's most popular decentralised digital currency, as legal tender on 7 September. With that deadline looming, a host of challenges – technological, financial and criminal – threaten to sink the plan of the president, Nayib Bukele, to ride the Central American economy out of its current choppy waters on the back of a cryptocurrency wave.
"The law was adopted extremely quickly, without a technical study or a public debate," says Ricardo Castañeda, a local economist. "I don't think the president has fully understood the implications of the law, its potential to cause serious macroeconomic problems and convert the country into a haven for money laundering."
Edited by Rogerdodger, 31 August 2021 - 10:14 PM.
---
Posted 03 September 2021 - 08:22 AM
---
---
Also tagged with one or more of these keywords: Bitcoin
<! --- START GOOGLE AD FOR TRADERS-TALK----!> <! --- NEW GOOGLE AD CODE FOR TRADERS-TALK --!> <! --- END GOOGLE AD FOR TRADERS-TALK----!>