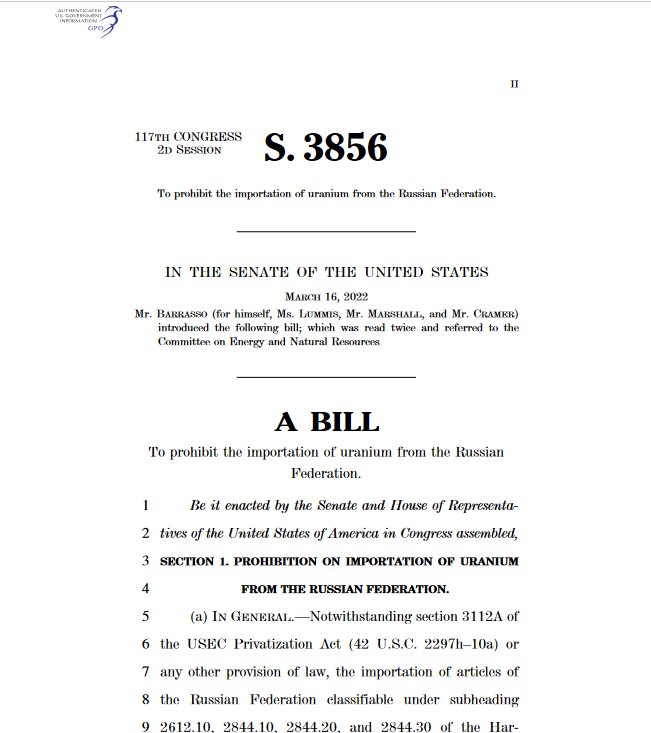 Link to .pdf of S.3856 (2 pp.)
https://www.congress...-117s3856is.pdf
Possible? Sure.

Probable?  With today's anti-Russian propaganda it is becoming much more likely with each day.
But anti-Russian rhetoric would be just a thinly disguised ruse.

The sponsor,  Sen. Barrasso (R-WY), & 3 other co-sponsors, Sen. Lummis (R-WY),
Sen. Kevin Cramer (ND) & Sen. John Hoeven (ND), all have incentives to sponsor this bill.
https://www.congress...-bill/3856/text
We get 46% of our Uranium from Russia, Kazakhstan, & Uzbekistan (16%, 22% & 8% respectively).
https://www.republic...rticleshow.html
Losing almost 50% of imported processed Uranium supply, -OH YES-, would turn the Uranium space upside down.

I'm very patiently from Missouri on this one, though.

But wait...We're not the only one.  Even Russia is considering a ban on Uranium exports.
https://www.zerohedg...uranium-exports