Corporate Bonds
Started by
slupert
,
Jun 18 2022 05:56 AM
Mclellan
Posted 18 June 2022 - 05:56 AM
---
Posted 18 June 2022 - 07:38 AM
Here's the rest of the story as of last weekend. Until the A/D line diverges, "oversold" indications tend to be only temporary until they too diverge. It's like making progress against a riptide until the tsunami hits and slams you back to shore...and beyond.
Fib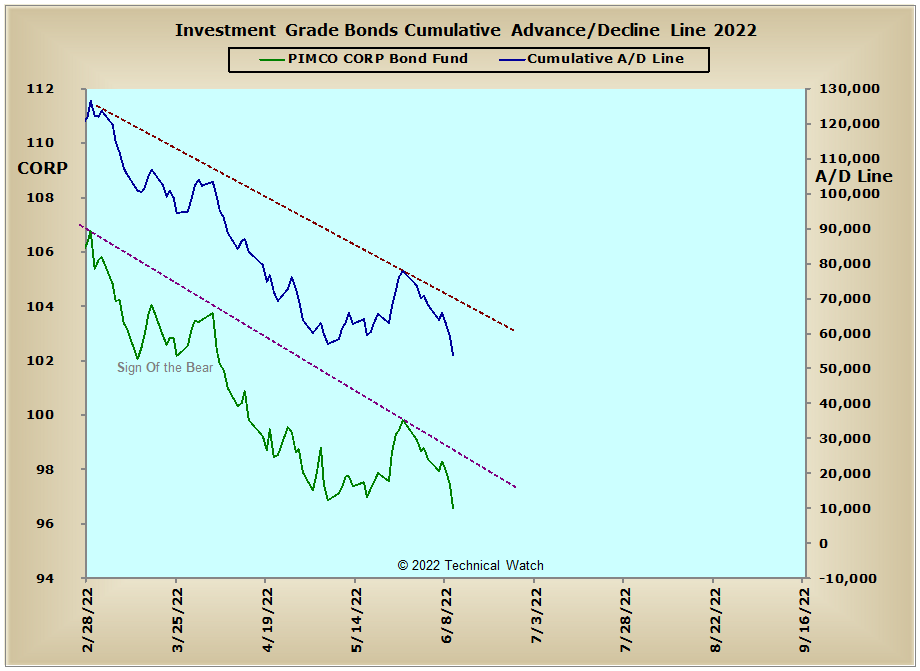 http://www.technical...dthig061022.png
Better to ignore me than abhor me.

"Wise men don't need advice. Fools won't take it" - Benjamin Franklin
"Beware of false knowledge; it is more dangerous than ignorance" - George Bernard Shaw
Demagogue: A leader who makes use of popular prejudices, false claims and promises in order to gain power.

Technical Watch Subscriptions



 
---
Posted 18 June 2022 - 08:32 AM
Here's the rest of the story as of last weekend. Until the A/D line diverges, "oversold" indications tend to be only temporary until they too diverge. It's like making progress against a riptide until the tsunami hits and slams you back to shore...and beyond.

 

Fib

 

 
The lack of issuance has been what has held the bonds market from collapsing, 3rd and 4th quarter volume of issuance resumes.  That's when and why most are looking for the real problems in the bonds market. (JMHO)
---
---
<! --- START GOOGLE AD FOR TRADERS-TALK----!> <! --- NEW GOOGLE AD CODE FOR TRADERS-TALK --!> <! --- END GOOGLE AD FOR TRADERS-TALK----!>