As one might have suspected, Covid cases and deaths have increased since Labor Day.
Before that date they were declining or holding steady.
Burning Man, School, Football stadiums, crowds, all seem like likely breeding spots for any air borne illness.
'Burning Man' revelers returning from desert with lifelong memories, and covid...
One attendee wrote: "Yikes. Almost everyone I know who went to Burning Man is coming back with COVID. BA.5 really only needs you to speak closely to someone whether you are outside or not."
Data posted daily on  https://www.drudgereport.com/
WORLD SICK MAP... from Johns Hopkins University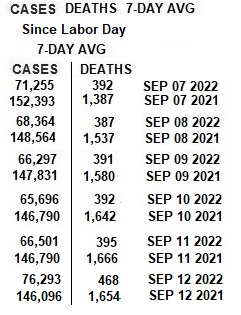 Edited by Rogerdodger, 13 September 2022 - 09:49 AM.