No T expert here but I use the NYUD extremes to often identify near term market turns within a day.
They are never correct at the close but I think they should have updated NYUD by now...but I am not sure.
So if they keep it this low it may be indicative of a small turn.
Then I use the MACD to look for higher highs and lower lows to find potential market "Ts"
So just for fun here's what today looks like to me.
Bearish AAII Sentiment could be more supportive.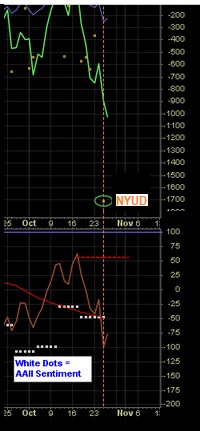 Quite the LATE update!
US economy accelerated to a strong 4.9% rate last quarter as consumers shrugged off Fed rate hikes
Still, that strength isn't expected to continue as the economy faces a number of headwinds, including soaring bond yields and the resumption of student loan repayments.
Edited by Rogerdodger, 26 October 2023 - 01:59 PM.