I've followed Terry's musings the last few years and I find he always offers a great perspective on markets, particularly for the long term view. Terry has been eyeing an Aug. 26th high, based on a T construction originally drawn last year. I questioned that timing last year based on a projected 18 month cycle low (80 week) in that timeframe. The nominal Hurst cycle period for the 18 month cycle is due in Aug. The cycle low may come early at 70 weeks (July 1 low), but there is no clear evidence that it has arrived just yet. The 18 month cycle is a very large cycle and one not to ignore. Great trading opportunities can arise from its low, even in bearish markets.
Here's an analysis showing past 18 month (80 week cycle lows). The March 2009 low was the last 18 month low.
http://www.traders-t...rt=#entry437989
Without diving into a full Hurst analysis, the current Hurst cycles status for the $SPX is as follows (this assumes that the 18 month cycle has not bottomed):
9 month pointing down
18 month pointing down
4.5 year pointing down
9 year pointing down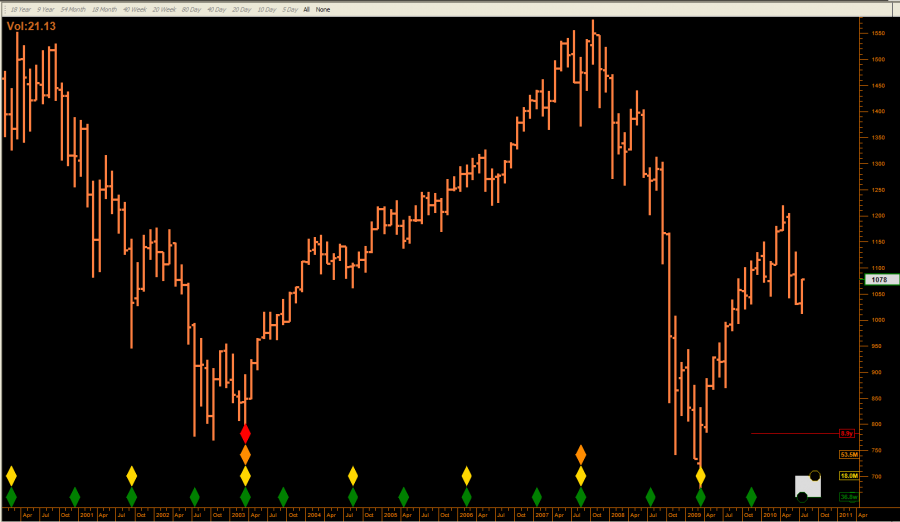 This brings me to Terry's latest T Theory observations. I've taken the liberty to indicate all 18 month cycle lows on this $SPX vs $NYAD chart posted this week. The thing that struck me was how modest the correction appears in terms of the $NYAD plot. All 18 month cycles lows in the last decade were preceeded by a touch or break of the moving average shown. I don't know how this chart was derived. But it appears to me that a significant low is still ahead based on this chart.
cheers,
john