Anyone knows this guy? 
Good stuff here:
Mark Young: Wall Street Sentiment -- Bear Market Low?
Mark Young
 |  January 06, 2019 at 04:15 PM
In our last submission, we were firmly in the Bull camp as we were hammering out the late winter lows. Since then, we saw a dramatic rally and, over the past couple months, a painful decline. In fact, the decline took us into what we call a "Bear Market Condition." This is not a signal, by any means, but it does tell us that the market is more likely to behave perversely and Buy signals are more prone to fail. That being said, I think it quite possible that the lows for this little Bear Market may be in.
Why? Well, my read is that the market needed a correction and only extended because they feared excessive Fed tightening. Even before the Fed Chair softened his stance, it was clear that there was little need for aggressive tightening. The Long Bond was under 3%, signaling that bond holders (those with the most to lose from inflation) aren't worried about inflation. Moreover, while the economy has been robust, Capacity Utilization is still well below inflationary levels.

Could something else be on the horizon? Perhaps some major financial meltdown? Well, if we look at those who lend money to companies in the financial industry, we can see that they are commanding very little risk premium on money loaned vs. non-financial companies. This again means that there's very little chance of something going wrong behind the scenes in the financial industry.

For comparison, look at where things were prior to the last Bear Market: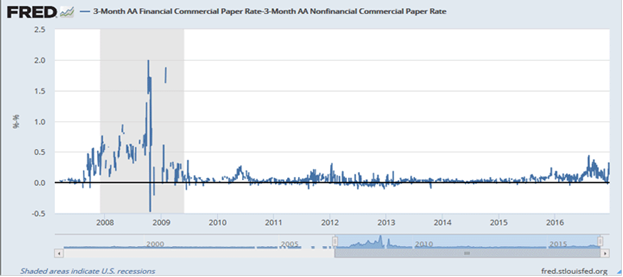 So, while the Fed has been an issue, it seems that they may be less of a problem for now and their policies haven't damaged the financial companies in any meaningful fashion.
So, what makes me think we have a low in place? Well, first is the Relative VIX, one of our very favorite "Bottom Spotters," which shot up on this decline to very high levels. True, it didn't get as high as it did last winter, but we also don't have the aberration of all those VIX derivatives and leveraged ETFs to deal with. By any stretch of the imagination, the Relative VIX is historically quite high.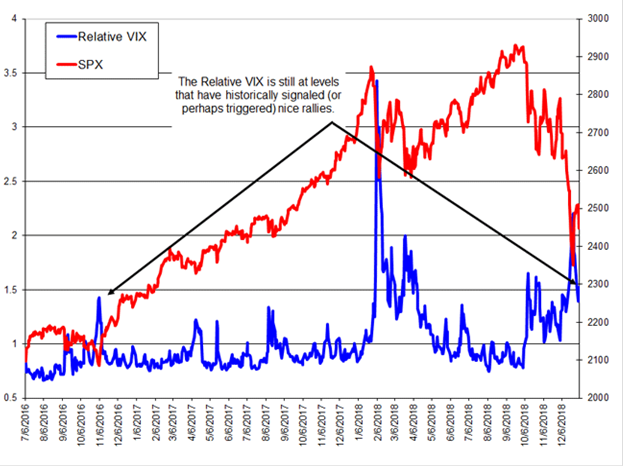 Not only did the Relative VIX get to very high levels (indicating pessimism to exploit), but almost all the other measures of sentiment showed extreme levels of fear/pessimism. Investor's Intelligence, after a long stretch of Bullishness, fell to Buy territory (under 1.0) which, over the last decade has been a rather timely Buy signal. Also, CNN's "Fear & Greed" Index fell to near-record low (Bearish) levels just days ago.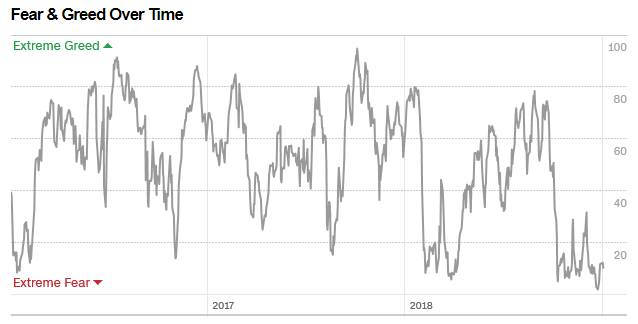 Additionally, speculators in the SH have been shorting like the world was coming to an end this last week. On Wednesday and Thursday, there was $229MM and $222MM in net new shorting, which is very high indeed. The 7-day cumulative measure shows $283MM-- a Buy -- and the 21-day shows $587MM -- also a strong Buy. All of the forgoing indicates that not only ar.....
CONTINUED HERE:
https://stockcharts....market-low.html