A few days rest was most welcome after a hectic first 6 weeks of 2019.
I decided to lighten my LT portfolio last week because I could not allow a 11% profit in less than 2 months of 2019 to be frittered away.
It has been a long time since I have had such this gain in less than 6 weeks so I thought it was prudent & no harm done in taking some off the table. 
More LT holdings (mainly financials and energy) will be closed on any up move this week and I will add to my existing 28 QQQ JUN puts. 
I really did not expect financials and energy stocks to move up so quickly but I am not complaining! 
Yes, I am now even more bearish in this BULL market. I would not be surprised to see another 3 to 4 % SPX rally but my forecast is SPX in March SPX to be much lower than what it is today, and I am sure I can buy back most of these stocks at much lower prices during the next 3 to 4 months.
Where oh where have all those AAII bears gone? 4 wk ma of AAII bears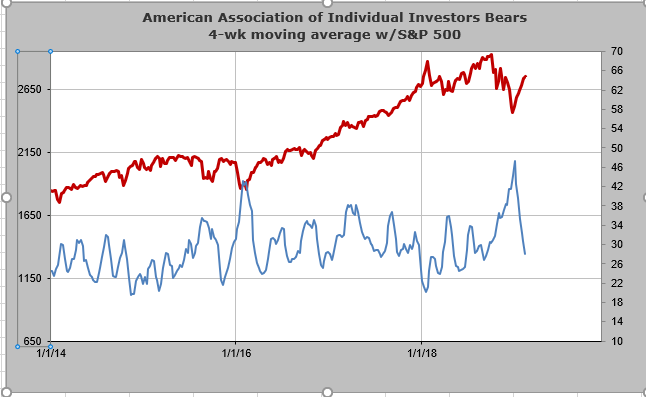 Insider Sell/Buy Ratio notched up again this week.