I had five relatives and neighbors get COVID, for their second time, 2 weeks ago!
All are well now except my daughter has lost taste& smell, for now.
The Reported US cases continue to drop nicely, especially compared to 2021 when they were exploding.
2022 deaths are still climbing a bit but have slowed from previous weeks and are far below 2021 levels.
I'm guessing that increase is from longer term patients finally falling to the virus (and the various comorbidities).
I am still testing positive for hypochondria every time I sneeze or cough! LOL!
Good health to all!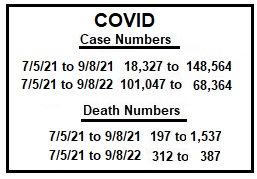 Edited by Rogerdodger, 09 September 2022 - 10:40 AM.