Mike Burk's seasonality for the coming week. (in the 3rd Presidential Year)
https://talkmarkets....023?post=382471
 
The good news is:  Seasonality for next week is very strong.
Average returns for the coming week have been positive by all measures
The Negatives: Total volume continues to fall.
Conclusion: The unresponsiveness of new highs to Friday's strong rally is troubling.
Declining volume vs rising price looks a bit similar to the declining volume/vs price seen in last August-September's price decline.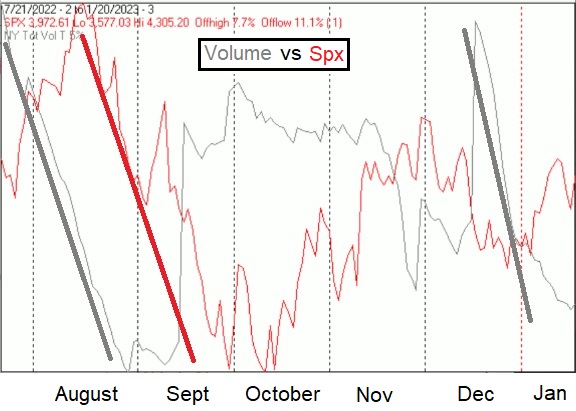 But August usually has low volume (Mike's stats for Aug 2022 accurately predicted end of August stock weakness)

Then there was this from Stock Trader's Almanac
  "One of the historical realities of the stock market is that it typically has performed poorest during the month of September."
So maybe an August/September Volume comparison, is not too predictive of the current market action, where stocks are rising but on declining volume since October?

And now we have "The January Effect"... or do we?:
"The January Effect is a perceived seasonal increase in stock prices
Indeed, our own look back at the SPDR S&P 500 ETF (SPY) since its 1993 inception makes one wonder how the term ever came to be used. Of the 30 years since 1993, there have been 17 winning January months (57%) and 13 losing January months (43%), making the odds of a gain only slightly higher than the flip of a coin.
"Traders should be aware of the tenuous nature of the January Effect.
Instead focus on the market conditions at the time."
https://www.investop...nuaryeffect.asp
Edited by Rogerdodger, 21 January 2023 - 04:59 PM.