COB 8-06-09 we have another 2008/2009 new high reading, which by bear market standards would say the top is likely in:


Respectfully, I don't agree: A high reading doesn't necessarily mean a top is in. Today or tomorrow is the window for a Hurst 1.25 week, or 6 to 7 day, low. I am thinking the low will be around 11 to 11:30, and so far, looks good to rally again from there due to the fact that the drop is extremely right translated (i.e., the high for this cycle is late rather than early) into WWW.
NYSI shows a similarly high reading to the indicator in your chart. The separation between the postings on the daily are exceptionally wide, indicating strong money flow coming in, the angle of ascent is steep, there is still a 'bottoms above bottoms' structure in place, and the high today exceeds the high in May, along with a higher top on the index. Would look for a double or even triple divergence before placing serious shorts.
However, I think the seeds for a bear case are beginning to finally sprout, in that stochastics on the dailys for many indexes seems to be forming about 1/2 of a rounded topping pattern (some serious distribution going on), and that NASI is actually showing a pattern of lower lows as opposed to NYSI. Tech not keeping up with this rally. Very not good, as it is all America really has left, IMO. Also, divergence on the 14 day RSI on weekly and daily, on this last NYSI high as opposed to the prior high. And finally, the 40 week Hurst cycle has topped and is starting to get a little 'long in the tooth.' If this is truly a bear market rally, and not the beginnings of a bull market, the top here should NOT be right-translated, but should be topping right here, right now.
To recap, so far this looks like a temporary swing short, that should be bought at a ST low.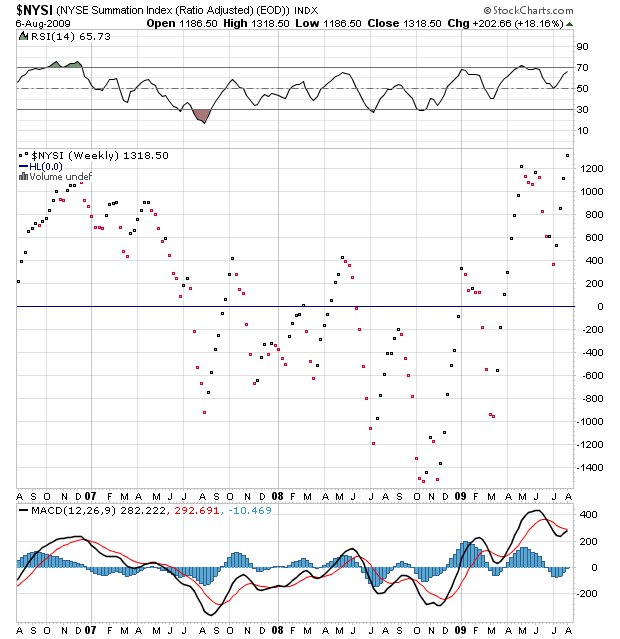 Ps: Ya' know, after all this complicated analysis, I really think the prez cycle is going to call the shots.
Edited by dowdeva, 06 August 2009 - 11:24 PM.