Weeks ago I asked "Where are all the bears?" as the AAII was at the top...and so was the market.
Now sentiment may be bottoming...or the bottom is getting ready to fall out.
(Is the recent spike in price similar to early September's spike and fail?)
2023 so far looks a lot like the 2022 June through September pattern.
But will we also see a fall like October 2022 with even lower sentiment?
Friday, the University of Michigan said the preliminary reading of its Consumer Sentiment Index dropped to 63.4, down from February's revised reading of 67.0. the data missed expectations as consensus forecasts called for a roughly unchanged reading of around 66.9.
The report noted that sentiment could actually be a lot worse as the survey didn't incorporate the growing U.S. banking crisis, which started last week after U.S. regulators took over Silicon Valley Bank
.
.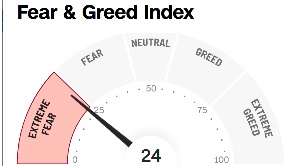 .
Edited by Rogerdodger, 17 March 2023 - 01:10 PM.